Heidi Montag "Blackout"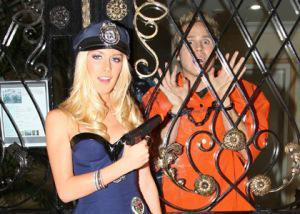 Photo Courtesy: bittenandbound.com
For my final installment in the "Is this real life" series, I have chosen an infamous reality star turned (total) failed singer…Heidi Montag. While January 11, 2010 may have seemed like an ordinary day to you, it was a big deal in the Montage-Pratt household. Why you ask? Heidi's compact disc "Superficial" dropped. The name seems more fitting after she got all that plastic surgery, right?
In my research, I have learned some fascinating things about this album:
"Superficial" took a whopping three years to complete
Spencer shows us his sweet rap skills on "Body Language." Unfortunately this jam didn't make it on to the album…bummer
It looks like it was all funded by Team Speidi and cost…wait for it…$2 million! Between that and all the crystals Spencer bought, no wonder the couple is broke!
The song I would specifically like to spotlight is titled, "Blackout." It is said that this song is Heidi's anthem to her love,  Spencer. I had trouble remembering my favises lyrics because I experienced an actual blackout while listening to the song for the first time. I braced myself and tried again.
Favises lyrics:
"I'm over the stories that we'll never make it/When I think of losing you baby I hate it/Why can't they see it's between you and me?"
I feel like this song can compare to a person getting their significant others name tattooed on their arm or some extremely visible spot. To me, this jam is screaming, "we'll be divorced in three to five years!" Remember J.Lo's "Dear Ben"…it just ends in a disaster.
Moving on to the music video, you can totally tell Spencer was behind the camera. I'm not kidding…he directed this video. There really is no concept, its just Heidi rolling around on the beach and floating in a pool wearing her bikini. It's basically a home movie. One part of the song that I would like clarification on is when Heidi states: "Black out the satellite, where should we run to?" Is that satellite connected to the GPS tracker Spencer had planted on Heidi? Just a thought!
I really want you to think before watching this. It will subtract 3 minutes and 29 seconds from your life.
Advertisement