Kevin Federline "America's Most Hated"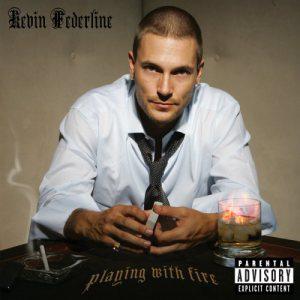 Photo Courtesy: examiner.com
Well, this title hits the nail directly on the head. My first question is: who approved this?
Federline released "Playing with Fire" in October 2006. Surprisingly, all songs were co-written by the life ruiner. The album sold a total of 6,500 during its first week, debuting at number 151 on Billboards Top 200…o0o0o burn. To be fair, Mr. Spears did peak at #2 on the Billboard Top Heatseekers chart.
I will give credit where credit is due. It's actually not that bad of a song. Now I'm not going to lie, I could totally see myself cruising around in my Honda playing this jam…if someone else was singing it of course. As a lifelong member of Team Britney, I just cannot allow myself to fully like this song.
Lyrics that I have a bone to pick with K-fed about:  
"Droppin – nothin but heat me an JR" - Who the F is JR?
"I built a kingdom down the street from Pepperdine" – NO! Britney forked over the cash money for your kingdom.
"I'm on the frontline/Dodgin cameras like the one time" – You were only dodging cameras because you some how convinced Brit to marry you and then used your superhuman sperm to impregnate her, remember?
"I got my blue Yankee fitted on" – Okay Jay-Z.
"I got my name spreadin faster than crack" – Fine comparison.
"I got 50 mill/I can do whatever I want" – This is the portion of the rap song where I must pause before I slip into a blackout. I do believe that this 50 mill you speak of isn't yours. You have not been hustling since you were 16-years-old wearing a catholic school uniform, standing on a mountain top and telling people you are "not a girl, not yet a woman," performing live on the VMAs with a giant yellow snake around your neck, among many, many other things. Excuse my rage everyone.
Below is only the song, K-Fed only was allowed to make one music video for "Lose Control"
Dear K-fed, I blame you. Listen to her pain. Love, Kari