Happy Monday! I thought I would start off the week by sharing some tunes from the past. I have a few other jams that I want to share with you and didn't want to overwhelm, so I will be continuing this post later on!  Okay, let's do this.
There are tons and tons of people who try to break into the music industry and it could end up taking years before they finally get noticed. A pertinent example: Katy Perry, she signed with four labels before "I Kissed a Girl" floated to our ears. While some of these aspiring musicians 100% deserve a record deal, there are some that should try another career path…please.
Brooke Hogan – "About Us"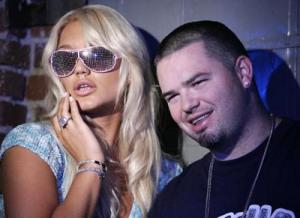 Photo Courtesy: music.ign.com
For some strange reason, I was reminded of Brooke Hogan's single "About Us" that the wanna be singer released in 2006. Hulk Hogan must have really put a lot of people in headlocks because this song featured Paul Wall. Maybe this jam is the reason that Lil' Weezy didn't sign the Houston rapper to Young Money Records…just a thought.
Now I won't lie to you, I know the chorus by heart and if this song came on at the bar, I would be on that dance floor in the blink of an eye. I love this song because it's so catchy and Brooke is rockin' the shades with bedazzled lenses way before Snooki ever put them on (yes, I just took Snooki's name in vain). Some highlights from the music video:
Brooke is singing with a grill in her mouth. That is some serious skill…remember when grills were cool?
Boxer by day, dancer by night….end of the video cumulates with a DANCE OFF! Side note: I'm still trying to convince my friends to learn a choreographed dance that we can bust out at the club. Since that isn't going as well as planned, I am in the process of taking applications!
Not only does Brooke win the DANCE OFF! Brooke gets to take Paul Wall home…jealous.
Favises lyrics:
"I'm just trying to live but your all up in my grill/How's a girl to breathe with all the media starring down my mouth/With a four inch lens I just wanna hit the mall with some of my friends" (Don't we all want to just go to the mall, Brooke?)
Even though "About Us" peaked at #33 on the Billboard Hot 100, not everyone who has heard this song feels the same as me. Her music career sorta floundered and now I haven't heard anything from Brooke that doesn't involve her parent's divorce or her mom's creepy cougar ways.
Brooke – In the words of Mean Girl's Kevin G …Don't let the hataz stop you from doin' ya thang!