I often say that whilst I love snowdrops I am not a galanthophile and nor will I ever be one.  Overwhelmingly the snowdrops in my garden are the common nivalis and they are good enough for me.  Over the years I had added the odd one or two with a name, a Mrs McNamara here, an Elwesii there, but nothing rare or precious.
Last year I fell prey to the charms of Galanthus Madeline,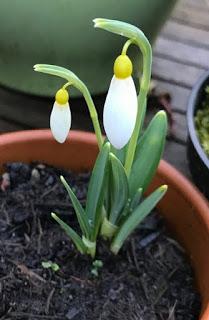 she is pretty and was more expensive than I have ever spent on a bulb previously and so has had to live in a pot.  Snowdrops in pots look good but are not really a long term option for keeping them happy.
Then it happened again, I saw what I would call an expensive snowdrop though I know to real collectors it was a mere spit in the wind: I fell for the delightful, the delicate 'Wasp'.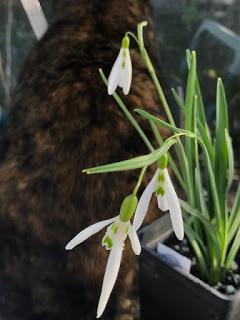 What drew me to this snowdrop was the very narrow petals.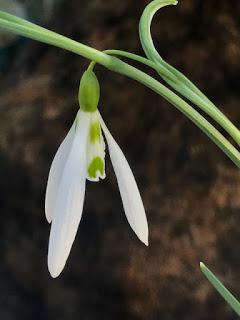 It is immediately recognisable to me as not the usual snowdrop.  This matters to me as I am never going to spend time trying to decide if it has a blob of green more than its neighbour,  or some other tiny note of distinction.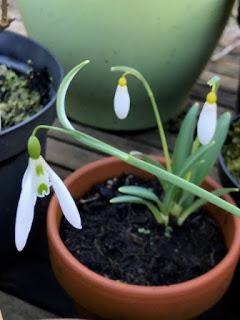 So I potted it up into a nice terracotta pot and decided to introduce it to Madeline.  Maybe they cross pollinate and create something special.....
The snowdrop garden visits continued and before I knew it a couple more lower end of the scale purchases have been made, from Thenford the rather delicate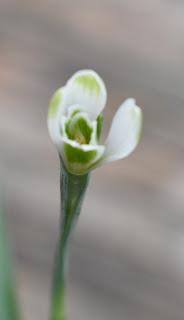 Modern Art and then from Colesbourne Park the slightly curvier....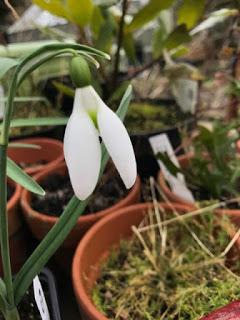 Alison Hilary.  She's rather lovely.
Suddenly though I feel a responsibility to these snowdrops.  I feel I have to take more care of them as, well, they cost me money I could have spent on something else.  I have been told they will not thrive in pots for many years so moving them on after a while is a good thing to do.  Snowdrops have spirits of the wild, they want to be free with their roots in the ground. A decision formed in my mind, in order to really make sure they survive they need planting out into the garden.  I also knew that if  I just planted them out willy-nilly (a technical term) I would forget who was who and they would become anonymous in the garden.  I spent too much to allow anonymity.
This is where I confess to buying plastic labels, yes they are plastic, I need them to last a long time.  I do not routinely use plastic labels, when sowing I use wooden lolly sticks, I bought 1000 a couple of years ago and I am still working my way through them.  So I only bought a few as I have no intention of spreading plastic around the garden.  I also bought some weather permanent marker pens.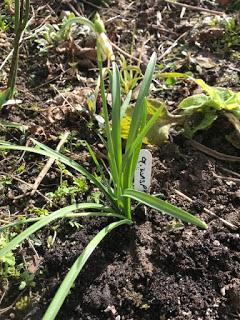 Properly labelled I planted them into an area of the Pond Border where I know I do not routinely replant with annuals so they should not be disturbed.  The label will also protect against this.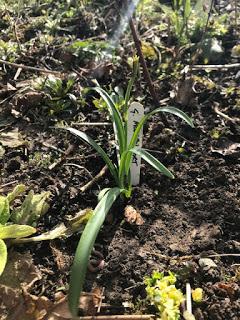 I have still been a bit cautious as most of my precious, as Gollum and I now call them, had at least two bulbs in the pot.  So one has remained in the pot and the others have been planted out.......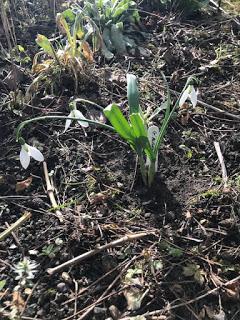 ..... except for Alison Hilary who is only one bulb and who I suspect is already being awkward.  I planted her out and whispered to her to grow well.  I am sure she nodded in agreement.
Will the sting in the tail be no Wasp and no other precious ones next year?  I hope not.  I do know that they have given me an earworm though....
Its always good to end on a song.