Guest Golf Blog Written by Mary Roberts. See below for bio.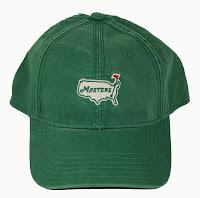 I swear I can spot a Masters Green Caddy hat miles away, and every time I do, I immediately envy that person and want to run up to them and ask, "How did you go to the Masters and not me?!" 
Being invited to The Masters is something I cannot wait to cross off my bucket list!  Year after year, my husband and I have entered the lottery (through random selection process) to get tickets and, every year, we promise each other that we will be just as happy if we only get invited to the practice rounds… unfortunately, every year we come up empty handed and broken hearted.
Just a note - 2014 Masters Tickets are already sold out - according to Masters.com, "the ticket application process for the 2014 Masters Tournament has concluded. All tickets were sold in advance by random selection and no additional tickets are available." - Bah, humbug!
Playing golf is our Sunday ritual: it's our time together to enjoy the weather, each other and a good round of golf.  One Sunday I finally got the nerve to run up to that lucky person I spotted on the golf course, this time sporting a Masters golf polo, and asked him just how did he do it...what was his secret to getting invited to the Masters?!
He chuckled and said, "I don't know either, but if I find out I'll let you know."
As I stood confused, I looked around and noticed he also had a Masters golf bag, Masters putter cover and a Masters golf towel sitting beside him in the golf cart. He was totally decked out.
He noticed me checking out all of his Masters gear and said, "Oh! I guess I do know a secret that may help you!"  He told me about a website where you can buy Masters Merchandise, called MMO Golf, so I made a mental note and continued my game.
Once I got home, I ran to the computer and found the site. Sure enough they had everything I ever wanted and more from The Masters, from pin flags and memorabilia to golf clothing for both men and women.
I dug around the site for a while, loaded up my shopping cart with Masters ball markers, a Masters golf polo for me, a wind shirt for my husband and a couple of caddy hats for friends and family.  A couple of items that I really wanted, like the Ladies Pink Caddy hat and the Masters Golf bag were not available so I called the number listed on their site to find out a little about the company and how I could get these items.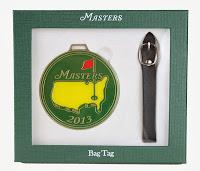 The customer service lady on the phone explained to me how the website is a shopping service and goes to the tournament every year in Augusta, Georgia, selling the items online to people like me who cannot attend the tournament. They use their tickets to go in (watch the tournament, of course...who wouldn't?) and purchase Masters Merchandise straight from the Augusta National Pro Shop.
MMO Golf Inc. doesn't manufacture any merchandise and only buys directly from the Pro Shop and then makes items available to the public on their website. Pre-orders are taken in February; the site then acts as a personal shopper to get the Masters Merchandise requested.
I thanked her for providing this service for the "uninvited" golf enthusiast like myself and told her I would be calling back in February to surprise my husband with a Masters Golf Bag for his birthday.


You bet every year I will continue to enter the lottery for an invitation to The Masters, but at least in the meantime, I can wear my Masters Caddy hat proudly and have others envy me!


Mary Roberts is a busy mom of 4 boys.  When she isn't driving her boys to sports practices, cooking dinner, cleaning the house, or doing the bookkeeping for her husband's business, she enjoys photography, kayaking and playing golf with her husband.  Mary's passion is creative writing, but knows she will never have time to really sit and brainstorm until her boys go off to college. Roberts majored in Mass Communications at the University of South Florida. 

Interested in writing a guest blog for Golf for Beginners? Email us at [email protected]

Voice your opinion on Twitter @Golf4Beginners and Like Golf for Beginners on Facebook.

Disclosure: This is a "sponsored post." The company who sponsored it compensated me via a cash payment, gift, or something else of value to write it. Regardless, I only recommend products or services I use personally and believe will be good for my readers. I am disclosing this in accordance with the Federal Trade Commission's 16 CFR, Part 255: "Guides Concerning the Use of Endorsements and Testimonials in Advertising.