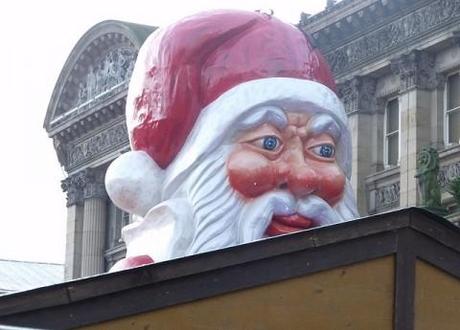 Father Christmas: Not doing his bit? Photo credit: Elliott Brown via Flickr
Does Christmas expose the gender divide? A new survey has found that a third of men believe women get too worked up over the holiday season and that they would do a better job than their female counterparts, according to The Daily Mail. "With chaps in charge, the festivities would be less rushed, less expensive and much less stressful, a survey of 2,000 men found", reported the Mail.
He said. "Christmas is for women," declared Martin Plimmer in The Daily Express. "From first to last, Christmas is about shopping. And who likes shopping? Women." That's right, Martin. All women around the world without exception like shopping. Aung San Suu Kyi is probably eyeing up some pretty fairy lights in John Lewis at this very moment. But Plimmer's nuanced observations don't end there: "If there's anyone who won't leave men to themselves it's women. The one thing they love as much as shopping is organising men." Presumably this is why German Chancellor Angela Merkel and US Secretary of State Hillary Clinton went into politics.
She said. "We all know that it's women who make Christmas happen: without us, there'd be no cards, no presents and certainly no turkey with all the trimmings", said Sandra Parsons in The Daily Mail. However, Parsons admitted an increasing sympathy with the – supposedly – male attitude to Christmas and suggested women should relax more over the festivities and stop trying to make everything perfect. In other words: calm down, dears. Men, she suggests, would prefer a ready-made Christmas meal rather than spending hours fussing in the kitchen, which sounds eminently plausible – just look at Gordon Ramsay, Heston Blumenthal and Michel Roux Jr. Oh, wait.