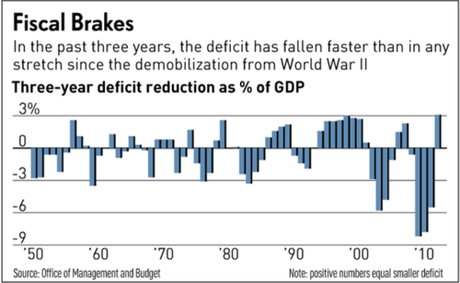 investors.com
Jed Graham at Investors.com thinks so, due to a new CBO report that shows the deficit is shrinking faster than any time since WW2, along with a contraction in GDP. Recall the surprise .1% GDP contraction in the 4th quarter, caused partially by reduced defense spending. Graham summarizes the CBO report:
After a burst of stimulus and financial rescue outlays in 2009, the fiscal retrenchment over the past three years was arguably steeper than at any time since World War II (see chart). Now, with stimulus and bailouts no longer clouding the picture, there's no question that the deficit is shrinking faster than it has in more than 60 years. Based on existing policies, CBO projects the deficit will shrink to 5.3% of GDP in fiscal 2013, down 3.7 percentage points since 2010.

Even during the '90s economic boom, the deficit never fell by more than 3 percentage points over any three-year period, but at that point the economy was growing twice as fast in real terms, producing a revenue windfall…

…A look at U.S. fiscal history would seem to confirm that the deficit is shrinking much too fast.

Outside of the demobilization from WWII, the only time the deficit has fallen faster was when the economy relapsed in 1937, turning the Great Depression into a decade long affair.
Even if you're a deficit hawk, you should be concerned by these numbers. Another recession could be disastrous to the federal budget due to reduced tax receipts alone (and that assumes no Keynesian stimulus). Even Paul Ryan's budget didn't balance out until 2040.
I am concerned about our long term budget issues as much as anyone. I am also concerned that, in an over zealous effort to restrain future debt, we cause a second recession that ends up adding more to our near term debt.
For part one click here.