Although five golf courses make up the PGA National Resort and Spa, it is the 16th hole of the Champion course that provides this week's Kodak moment at the Honda Classic.
The 15th, 16th and 17th holes of The Champion golf course, or "The Bear Trap" are legendary and have been called "the real killer in golf" by Lee Trevino.
Why is this stretch of three golf holes called "The Bear Trap"?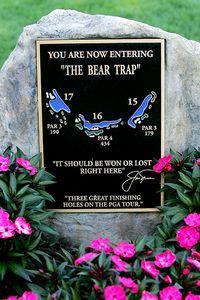 Although Team Fazio originally designed the course, Jack Nicklaus redesigned it in 1981. Known as the "Golden Bear", Nicklaus left his "footprint" behind on what he considered to be these "Three Great Finishing Holes on the PGA Tour."


"That stretch is about precision," said Nicklaus. "That stretch is about guts."
It is the 16th hole that has been designated as the Kodak Challenge hole for the Honda Classic and is considered the toughest par-4 of all of PGA National's 90 holes. According to PGATour.com, on this dogleg right...
"Off the tee, everything slopes toward the water on the right, but a bunker was added to catch balls that roll too far right. Those who bail out left are faced with a 220-yard second shot over water, into the wind" and on to a two-tiered green.
With strong winds whipping on Thursday, double bogeys outnumbered birdies.
The hazards and the elements of nature that golfers will contend with this week make the PGA National Champion golf course a truly memorable yet difficult experience but, are these three golf holes, as USA Today has stated, the toughest test in golf?
Last week's winner of the WGC Accenture Match Play Championship, Luke Donald, called the Bear Trap finishing stretch, "one of the toughest we have all year" while Ernie Els claimed, "those are the holes that really sits in people's minds."
You decide.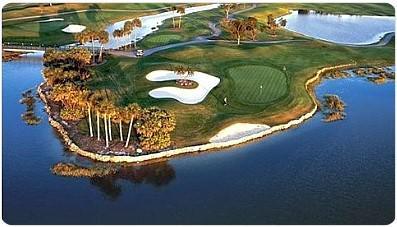 Photo credit:  PGA National


Voice your opinion! Golf4Beginners on Twitter
Read Golf for Beginners blogs
Posted via email from stacysolomon's posterous