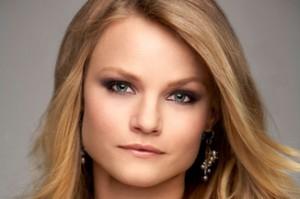 Last night's episode of Law and Order: SVU was the debut of True Blood's Lindsay Pulsipher, who played Kim Rollins the troubled young sister of Detective Amanda Rollins (Kelly Giddish).  Pulsipher crashes in on her sister's life while they are in the middle of dealing with a kidnapped young girl who falls victim to a sexual predator.  The "sisters" had worked together before on the short-lived NBC show 'Chase', but their chemistry on Law and Order convinced Executive Producer Warren Leight to possibly make Pulsipher's role a recurring one so they can explore the family dynamic and more of Amanda's history.
For her part Pulsipher is more than happy to return to the show and she describes the cast as very warm and friendly.  When asked about the role she had this to say:
"It's always fun for me to play a character that is flawed because it's really fun to kind of explore the psychology behind that.  It's really interesting to kind of play all of the different colors of [Kim Rollins'] past and how it's brought her to this place."
SVU fans will get an in-depth look at the painful family history that turned Amanda into who she is today.  No further air dates for Pulsipher have been released but we will let you know once they are!
Source:  HollywoodReporter.com – Lindsay Pulsipher Guest Stars on 'Law and Order: SVU', Potential For Recurring Role
Image Credit: JSquared Photography