20-year-old woman, Mariah Yeater, is claiming that Justin has fathered her 3 month old son.
The lawsuit, filed by Yeater this week in Los Angeles, alleges that a security guard approached Yeater after Bieber's sold-out performance at L.A.'s Staples Center and asked if she'd like to meet Bieber backstage. At the time, she was 19, and the pop star was just 16.
According to Yeater, "Immediately, it was obvious that we were mutually attracted to one another, and we began to kiss … I agreed to go with him, and on the walk to a private area he told me he wanted to make love to me and this was going to be his first time." Yeater added, "Justin Bieber found a place where we could be alone—a bathroom. We went inside and immediately his personality changed drastically. He began touching me and repeatedly said he wanted to f–k the s–t out of me. At the time I asked him to put on a condom for protection, but he insisted that he did not want to. In his own words, he said that because it was his first time he wanted to feel everything."
She is demanding that Justitin take a paternity test and wants him to pay for child support.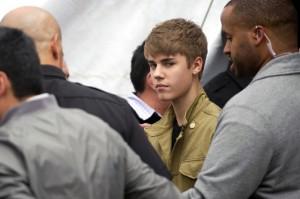 Justin has denied the allegations.