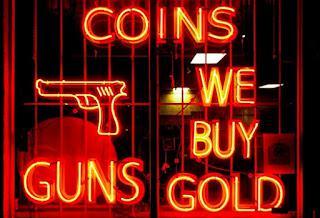 via Futurity.org
A new survey reveals that 54.9 percent of US firearms dealers and pawnbrokers believe it's too easy for criminals to get guns in America. 
This study, published in the Journal of Urban Health, provides the first detailed statistical portrait of retail establishments—gun dealers and pawnbrokers—that sell firearms. It also details respondents' personal characteristics and attitudes toward firearms, including their incentives for and concerns about employment in the firearms industry.
The pro-gun response?
Wintemute (Garen Wintemute, director of the University of California, Davis, Violence Prevention Research Program and author of the study.) notes that gun lobby tried to interfere with the execution of the survey.
"Major national organizations sought to block this research, even though it could help protect the public's health and safety without undue interference with the legitimate uses of firearms," Wintemute says.
"Two days after the first questionnaire was mailed, the National Shooting Sports Foundation posted notices on its website 'strongly discouraging retailers from participating in this study.' The National Rifle Association (NRA) quickly followed suit, issuing a similar notice and e-mailing its entire membership."
What's your opinion? Why do you think the major gun-rights organizations would attempt to block the study?
What do you think?  Please leave a comment.