A motorcycle drove by our house this weekend in South Dakota. Brrr? Nope, it has been unseasonably warm here. The temperature this weekend hit 50 degrees. Having lived in South Dakota my entire life, it is a rare occasion to celebrate the Christmas season when it's not white outside. But, as I write this post, I have only seen snow on the ground one time this season.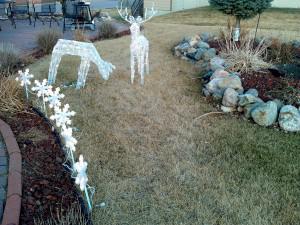 Where is the snow?
My Christmas season starts with Black Friday. It has been a tradition to venture out and shop on this crazy day with my mom for as long as I can remember. We bust out the Amy Grant Christmas CD's and shop away.
Slowly, through the month of December, events are scheduled to help bring in the spirit of the season.
The tree, lights, and Christmas decorations get put up. Presents get wrapped. Stockings get stuffed.
A week or so before Christmas is when we have our annual cookie bake. My mom, grandma, aunt, cousin, and I spend an afternoon baking dozens and dozens of cookies. The house smells like chocolate for a week. We each leave with at least two large Tupperware full of goodies.
Christmas Eve and Christmas Day events are full of faith and family.
Christmas Eve is first spent at my parent's church, where we attend a children's mass. Not only do kids sing the songs, but they also do a live nativity, complete with little ones dressed as sheep. We then travel out to my grandparents, where we have soups and sandwiches, followed by gift opening.
My husband and I spend Christmas night at my parent's house, and, just like little kids, get up in the morning and exchange gifts.
Christmas Day is spent with family again, all gathering at my parent's house. We have a large meal, similar to a Thanksgiving feast, with turkey, ham, and all the fixings. The rest of the day is spent playing cards, watching football, and simply enjoying the company.
Do my decorations go down on the day after Christmas? No way! In the church, we celebrate Christmas for four weeks after the birth of Jesus, so my decorations stay up well into January. Plus, why spend all that time decorating to only enjoy it for a few weeks?
Now I ask you, what Christmas traditions do you treasure? Leave a comment below!