Not in my house it's not!  We are officially moved in, but holy, we have work ahead of us.  I just wanted to post to let you all know that I'm doing my best to get back to you before the holidays, but I have some pressing things to get to first...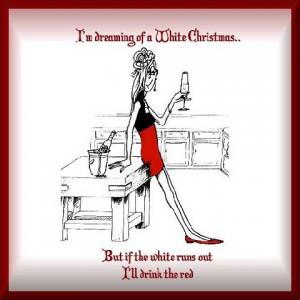 ...not just the wine!  Mind you, I am dipping into it, and might be a bit of a boozer after these holidays!  Not only are we still moving around boxes, but I am reviewing the *final* page proofs of LTEV.  This is my last chance to catch any changes, and I need to finish by the weekend.
And... as I mentioned, we still have to get ready for Christmas.  No tree up, no decorations, no nuthin'!  The girls are reminding me every day "how many days are left until Christmas", and I am panicking just slightly.
So, please hang tight with me, and if you want some ideas for Christmas recipes for the big day or for gifting, do some searching on my older posts, you are sure to find some ideas.  And, I'll try to get back with a post for the holidays soon.  Will also show you some pics of my new office (ie the kitchen).  :)
And, pleeease tell me some of you are in the same boat.  Ok, not living amongst boxes, but surely some of you aren't ready for Christmas, right?!  Come on, give a girl a mental break here!