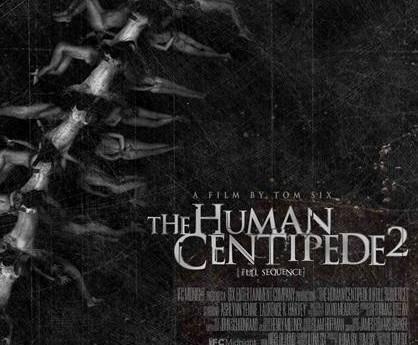 Part of the Human Centipede 2 poster
Extreme horror sequel Human Centipede 2: Full Sequence won't be seen in the Britain since the British Board of Film Classification (BBFC) took the unusual decision to flat-out deny it a certificate. That decision seems to have only served to fire up (somewhat sick) fanboy interest in the film in the Britain. The world premiere of the film at Fantastic Fest in Texas, USA, was observed closely (from afar) by UK web surfers who sent the film title trending on Twitter.
For people unaware of the original Human Centipede film, it's basically about a mad scientist who stitches a trio of unwitting hostages together mouth-to-anus to create, well, a human centipede. The follow-up effort film charts the progress of a deranged lunatic who is obsessed with the film and sets out to create his own 12-person human centipede.
 'Anal horror' genre has captured the public imagination. "Clearly it is going to be gruesome, but as the first one was so sickening, is it possible for the sequel to shock like the first," wondered Sabotage Times, who reminded that "anal horror" Human Centipede 2 already has a firm following on the net: "The trailer was released on YouTube last April and the internet went batshit crazy for it. Somehow the concept of nubile American tourists having their mouths surgically grafted to each others' arseholes simply captured the imagination of the general public – it was this year's Obama."
In interest in the film the online equivalent of rubber-necking an accident?
Satisfies gruesome expectations. Eric Kohn at Indiewire filed one of the first reviews of the film. He promised that "the simultaneously anticipated and feared" film with "will satisfy your gruesome expectations." Kohn said the "provocations take a while to arrive, but certainly leave a mark. These include: Tendons sliced in graphic close-up; teeth hammered into a gullet one by one; butt cheeks sliced along a dotted line; and a scene (admittedly inventive) of anal rape involving barbed wire." Looking beyond the provocations, Kohn insisted that Six can actually tell and story and direct a film pretty well. Kohn said "the new work plays like Six's attempt to channel Darren Aronofsky. That would be the first half, anyway, a black-and-white psychological thriller about a seriously confused man that suggests Pi meets Psycho."
Distributor IFC Films had an ambulance stationed outside Austin's Alamo Drafthouse, where the film premiered on opening night of Fantastic Fest, reported Indiewire.
Trash. "Human Centipede 2 might as well have been tom six massaging his privates on camera for an hour and a half," sniped Cole Abaius at FilmSchoolRejects.com. "It feels wholly like Six had no ideas for a sequel besides sewing more asses to mouths." Abaius expressed frustration that so much fuss is being made about the film: "The emperor has no clothes here, and his mouth is stapled to a tattooed man's asshole. Looking for a poetic truth or a subtextual message here is like hearing a trash compactor and calling it Socrates. In short, it's trash. Boring, insipid, wandering, pointless, unnecessary, plodding, shrug-worthy, self-milking, moronic." The reviewer said the "worst condemnation that the film earns is that it made me (and at least one other person) actively hate movies and filmmaking for a short while after seeing it. No kidding."
"If you're eager to see a barbed-wire-wrapped schwantz raping a bleeding, twelve-person rimjob-train, you'll probably be thrilled," said Scott Wampler at Collider.com.
Truly disturbing. Scott Wampler at Collider.com said he considered the original to be a "great body-horror film" but found little to like in the sequel: "It's not that it 'doesn't have a plot' or that it 'has no point':  it's that the point of the whole thing is to rub your face in the graphic violence … Six has delivered something truly disturbing here, something completely amoral, something that people are going to talk about for a long time."
More on film and culture

Girl with the Dragon Tattoo
Warrior
The Ides of March
Conan the Barbarian
One Day
The Help divides critics
Rise of the Planet of the Apes
Cowboys & Aliens
The Sense of an Ending
Wild Abandon
More film »