Remember when bad-boy behavior was unacceptable in golf and high moral standards separated golf from the rest of the sports world? Throwing a golf club, obscene language or spitting into the cup (Sergio) just wasn't tolerated.
Support for Tiger Woods seems to be back on the "Pro" side now that he has a few golf tournament wins under his belt but does "Winning (Really) Take Care of Everything"? Does Nike hope that revealing a bit of "naughty" along with his wins in their marketing strategy will get Woods' problems out into the open and actually expel them from his life?
By now you've seen Tiger Woods sassing it up with Rory McIlory, rumbling with Arnold Palmer and you've most likely read about the new found happiness shared with Lindsey Vonn but is the new Tiger Woods image brand-build working...are you liking Tiger Woods again?
In the case of Tiger Woods, and with other athletes who have suffered problematic situations (think Kobe Bryant), advertisers take a few steps back, wait for a rebound, an apology to fans perhaps and watch for the sports celebrity's new lease on life...and all is forgiven in the advertising and branding space.
In a recent TMZ.com poll, almost 75,000 fans were asked if "Winning Cures All" and fifty-five percent said "YES!"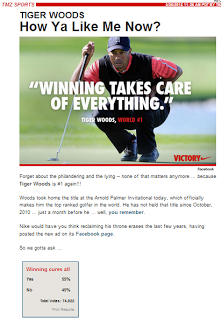 Lewis Blackwell "begs to differ", stating that "winning is never enough" and "it needs to be dirtied up a bit."
"You have to win brilliantly, or win dirty, or win tragically, win sexily," claims Blackwell, "or lose with style and a sob story. For heaven's sake, don't win normally and expect acclaim."
Fans now adore Woods cheering him on three-deep at golf events, a new lease on life is on the horizon, the great Arnold Palmer is sharing laughs and co-starring with TW in videos and Jack Nicklaus is defending Tiger's Masters decision and opening up once again about Woods ...not like before, when Tiger was, well...toxic,

"I've said it, and I continue to say it, that I still expect him to break my record." said Jack Nicklaus recently. "I think he's just too talented, too driven, and too focused on that."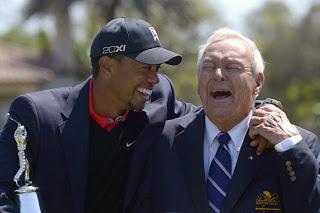 Tiger Woods and Arnold Palmer share a laugh

Tiger Woods is just now beginning to rebuild his commercial life but does winning really cure all?

Voice your opinion on Twitter @Golf4Beginners and friend on Facebook.
photo credit: thesun.uk, TMZ.com