Golfers always talk about the importance of distance; thoughts of gripping it and ripping it, bombing a shot, how far down the fairway did that shot go but, is distance overrated?
The thought of hitting that little white ball (or in the case of my wife, Stacy, a yellow or pink ball) deep onto the center of the fairway is enough to make a golfer choke...literally...or to change the swing to compensate. Let's put it in perspective with scoring ability.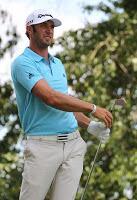 On the professional level, golfers have so many shots in their bag that, if they spray a long drive off of the tee, they can still find a way to get onto the green from just about anywhere.
We might think these are miraculous recovery shots (and they are) but these guys and gals also visualize the unthinkable to get the ball back into play...remember Dustin Johnson's incredible shot from tree to green using the roll on a cart path? 

For the average player looking to score, however, thinking in terms of distance can ruin your round. Is that extra ten or fifteen yards you visualize in order to bomb your drive really worth it if your golf ball lands in deep rough? 
Accuracy is key to a solid golf game.

How good are you in getting out of trouble when your drive goes awry? Are you Dustin Johnson good?
According to usgtf.com, "long hitters are able to get away with a lesser skill level than short hitters and still beat them, but they have their own challenges," which include lesser ability from one hundred yards and in or issues with accuracy. The approach to the green is the money shot and putting is the gravy.
Where pros can play "military golf" and get away with a possible bogey, average golfers tend to have cards with snowmen. The once-a-week duffer needs to have drives that land in or around the fairway with reasonably direct approaches to the green. If your drives are shorter and land in the fairway, if you have a decent short game (130 yards and in) and can putt reasonably well, you have a better chance at a decent handicap and overall more pleasurable round.
Distance is important to golfers and is not overrated as long as the shot can land safely, otherwise, thoughts of distance can lead to over-swinging, changing the swing to compensate and high scores.
Think Accuracy over Distance

According to the PGA Tour, one of the most important statistics is "Strokes Gained: Tee-to-Green" which evaluates a tour player's non-putting performance. PGA Tour Senior VP of Information Systems says, "This enables us, for the first time, to quantify player performance and explain how a player achieves his success on the course." Strokes gained from around the green are also important as shots are measured from within thirty yards of the edge of a green. Distance is just one statistic on the PGA Tour but finding where your weaknesses are and turning them into strengths far outweighs distance.
Which tees do you play?
The average ten to nineteen handicapper drives the ball about two-hundred and fifteen yards. According to Barney Adams, based on that single fact, "an average golfer playing a 6,700-yard course would be the equivalent of a tour player playing an 8,100-yard course." Talk about getting a bang for your buck but, at the same time, what is your level of enjoyment?
Tee It Forward guidelines state that, if the ball goes 225 with your driver, your recommended eighteen hole yardage stands at 5,800-6,000 for optimal enjoyment. Course length decreases while enjoyment increases - a win-win situation.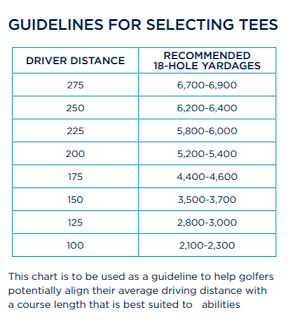 Where there will always be a fascination with bombing a three-hundred yard drive, remember that good contact, proper tempo and optimized course management will always trump a wayward drive.
Bio:
Barry Solomon is the co-founder of Golf for Beginners and a regular contributor to our blogs.
What are your thoughts on distance? Let us know in the comments section of this golf blog and tag us on Twitter @Golf4Beginners.
Photo: Wikimedia