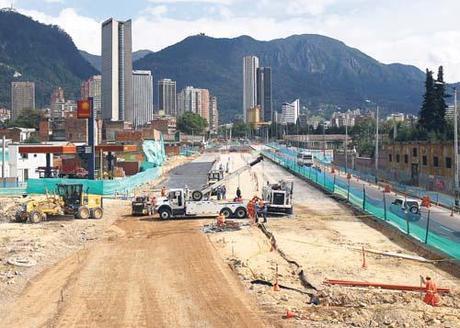 Construction in Bogota, Colombia. (Photo: Flickr user LaSillaVacia)
Standard and Poor's upgraded Colombia's foreign denominated debt rating to investment grade last week. The rating agency's decision boosts market confidence in Colombia amid responsible macroeconomic management. Good macroeconomic management should come hand in hand with eradicating corruption practices in public and private transactions, as the ongoing corruption scandals in Bogota and across the country belie. Otherwise, the continued pilfering of public monies threatens to become a fiscal burden and an obstacle for conducting business.
S&P's decision, expected by Colombian policymakers and long-internalized by markets as a result of the agency's 2010 upward outlook for Colombia, reflects the relative sound macroecnomic environment of the Andean country. Credit agencies downgraded Colombia's rating twelve years ago after the country underwent a banking and mortgage crisis. Increased insecurity and alleged inability of the government to control its territory also contributed to the downgrade. But unlike Argentina, Ecuador, and Venezuela, Colombia has had a historical responsible macroeconomic management, a solid independent Central Bank, and a credible commitment to service its obligations.
The upgrade comes despite delayed implementation of pending macroeconomic reforms. Legislation strengthening fiscal sustainability and discipline is pending approval in Colombia's Congress. It includes an overhaul of the mining and hydrocarbons royalty management framework, which will create counter-cyclical stabilization funds, the adoption of a fiscal rule, and the adoption of stringent fiscal sustainability legislation whereby mandated government expenditures should be commensurate with income and debt capacity of the central government. S&Ps' decision certainly boosts market confidence, serves the Colombia's government goal of luring investors to the country, and allows local businesses to access foreign credit in better conditions. Nevertheless, much needs to be done for business confidence to increase.
Land in Bogotá and you will understand why. Colombia's capital city, home to 20 percent of the country's population and the economic and financial hub of a region that contributed 14 percent to Colombia's exports and 44.5 percent of the value of Colombian imports in 2009, has been struck by corruption in contracts for construction and adaptation of  8.5 miles of dedicated bus lanes in Calle 26 for Transmilenio, a world model bus rapid transit system.
The choking traffic road building started in late 2008 and was expected to end in mid 2010 but contractors were unable to meet deadlines and the city is paralyzed. Calle 26 is one of the main avenues connecting Bogotá with its airport, which also under renovation. The two-headed boogieman of corrupt businesspeople and public officials is to blame.
In a joint venture with other contractors, including a Mexican firm (Condux), cash-strapped Nule Group won the $170 million (COP 318.3 billion) public tender for the construction of Transmilenio's Calle 26 dedicated bus lanes. Although the Group suspected they were not going to get the contract, their representatives approached the head of the district agency in charge of the tender –The Urban Development Institute of Bogota, IDU- to solicit awarding them the tender, which eventually occurred. One of the companies the Group used as front for competing in the tender had its registration cancelled before participating in the bid. That would have provided sufficient evidence for not granting Nule Group the contract in the first place. The Nule Group had also bribed the city's comptroller so he would turn a blind eye to this and other red flags. From the $45.5 million (COP 85 billion) advance the group received to start the construction, equivalent to 10 percent of the value of the tender, the Group paid commissions to IDU's chief.
The companies also use advances to finance other delayed construction projects throughout the country, particularly the concession awarded to the group by the national government for the construction of the road connecting Bogotá with the town of Girardot in the east of Colombia which will connect Colombia's capital with the port of Buenaventura in the pacific coast. The advance from the Transmilenio contract allowed the Group to bribe IDU officials and Bogotá's comptroller, according to testimonies by the Group's representatives given to Colombian authorities from Miami where they now reside. Using contact advances to pay bribes appears to be a normal cost to infrastructure projects in Colombia, according to different accounts from corrupt and probe contractors. Would be investors seeking business opportunities need to make significant time investment in due diligence investigations.
Other current and former public officials participated in this corruption network. Germán Olano, a former legislator, and Senator Ivan Moreno the brother of Bogotá's mayor Samuel Moreno, have been identified by the Nule Group as intermediaries between contractors and public officials. In exchange, they received substantial commissions. Colombia's inspector general forced the removal of Bogotá's comptroller and banned his participation in government positions and public procurement for twenty years for being unable to explain a rocket increase in his assets; Mr. Olano's penalty was twelve years. Ivan and Samuel Moreno are under investigation.
Other similar corruption rings of contractors offering and paying kickbacks and public officials extorting and receiving bribes have been uncovered in the departments of Antioquia, Cundinamarca, Valle, Cauca, Risaralda, Chocó, and Atlántico. The infrastructure contracts under scrutiny in these regions of Colombia, including those of Bogotá, are almost half the budgetary additions made to the national budget to confront the effects of rain and floods that damaged infrastructure throughout the country in late 2010 and early 2011.
There are many reasons behind rampant corruption in infrastructure projects in Colombia. Some argue it all starts with political campaign financing where contractors buy off candidates. Others mention the leniency by which procurement framework is put to practice where illiquid bidders receive contracts, national and sub-national government agencies open tenders where key technical and project design details are unclear or missing, contractors and awarding agencies are able to renegotiate contract terms shortly after contract awarding, and additions that end up doubling the original price of the tender are allowed.
What is true nonetheless is that corruption can paralyze a city. It also imposes fiscal pressures to public finances at sub-national and national levels. The macroeconomic policy decisiveness that rightly differentiates Colombia from its neighbors, evidenced by S&Ps' upward rating, should be accompanied by a similar determination to fight against corruption throughout the country when the risk of a massive waste of resources resulting from this malady is high… and evident.