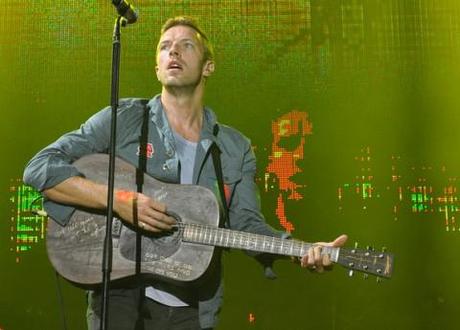 Chris Martin's "Dawn of the Dead" face led some critics to insist his performances had become more lively. Photo Credit: Mark Runyon, http://concerttour.org

Coldplay frontman Chris Martin himself has suggested that the band's new album could be its last. Even though he told the NME that he thought the band's lyrics are "a bit shit", he says he has a great deal of confidence in some of the fourteen tracks on the band's fifth studio album, Mylo Xyloto. Martin told The Sun that the new release is "not quite a musical, but dangerously close", a concept album that loosely documents the romance between two distinct characters, 'Mylo' and 'Xyloto.' Coldplay seems to want to explore Big Themes on this one: drummer Will Champion explained that the track 'Charlie Brown' (written by Martin in his daughter's play-den) is about "running away" while 'Paradise is about "feeling lost" — the ending he says, is "about love conquering all."
Coldplay is certainly equipped to handle all this bigness — the band even has its own Wikipedia page listing all the awards and nominations it has received — but do the critics think it pays off? Here's the pick of the bunch:
Unsubtle and uninspiring guff. Simon Price at The Independent was unimpressed. The album "browbeats and bullies you into submission with its sheer massiveness", while the music sounds like LCD Soundsystem "played by idiots in boxing gloves" according to Price. He also took issue with Martin's lyrics "I'd rather be a comma than a full-stop" — the singer, Price says, "has much more in common with a colon."
Insiped. The "high concept" of Coldplay's new album "can't seem to elevate their music from the sonic equivalent of a cup of tea made with a used bag" adjudged Hermione Hoby of The Observer. The album does have some "uplifting" points — especially the "robust guitar" and the "strident and sexy" duet with Rihanna, but is "ultimately insipid", Hoby opined.
"Unexpectedly dynamic", praised Ludovic Hunter-Tilney in The Financial Times, who found the album a welcome relief from Coldplay's previous fare. Hunter-Tilney loved the Rihanna track, the Eno production and the way the band gives a "topical sense of a lost generation struggling to get by in an unforgiving world".
"Starving fans" are finally sated. Coldplay "has managed to harness the remaining positive energy in the world and burn it onto CDs" gushed Judah Joseph at The Huffington Post. He praised Coldplay for "letting go of reservations and making art" and considered the album to be "the best album of the year".