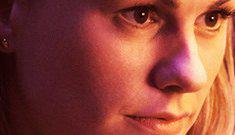 As all of the True Blood fans know, our own Sookie Stackhouse, Anna Paquin is up for a 2011 Scream Award as Best Horror Actress. She has four others competing against her for the same award.
In the video below, one of her fellow nominees, Chloe Moretz seems really keen on winning and sends Paquin a dangerous threat.  It sure looks like Anna has an uphill battle, but we know she's always up for a good fight. As we saw in Season 3 of True Blood, Anna's Sookie can hold her own even against a werewolf like Debbie Pelt and therefore we know that she will prevail.
So go on over to Spike.TV and vote for Anna and all the other True Blood nominees by clicking on the links below
To make voting easy here are all the direct links:
- The Ultimate Scream
- Best TV Show
- Best Horror Actress
- Best Horror Actor
- Best Breakout Performance Male
- Best Cameo
- Best Ensemble
The Spike TV's Scream Awards 2011, which will air TV October 18 at 9 p.m.-11 p.m. ET/PT.
source: spike.com