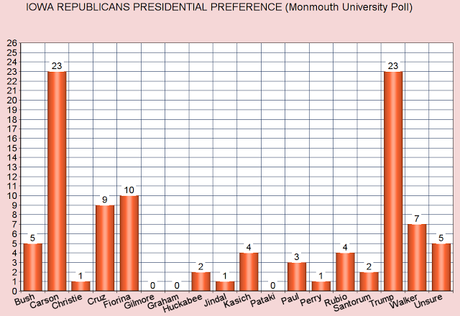 In the last few months, there have been several "leaders" in the GOP race for their party's nomination to be president (although none of them have been able to get anywhere near a majority). The current leader is Donald Trump. But is he about to give way to a new leader? If the results of this new poll are correct, that may be the case -- at least in Iowa.
The numbers in the chart above are from a new Monmouth University Poll -- done between August 27th and 30th of a random sample of 405 likely Iowa Republican caucus attendees. It has a margin of error of about 4.9 points.
The survey shows that Ben Carson and Donald Trump are now tied in Iowa at 23% apiece -- far ahead of any other candidates. Carly Fiorina finishes third with 10%, and Ted Cruz is fourth with 9%. Scott Walker, who led in Iowa for quite a while, is now fifth with 7%. No other candidate got more than 5%.
Looking at the top three finishers, none of whom have ever been elected to any government position, one might assume that Iowa Republicans are mad at their elected officials. And that seems to be true. The survey also asked if those queried want someone with government experience or some from outside of government. Outside of government was the overwhelming choice (66% to 23%).