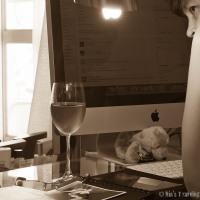 Originally I started blogging as a journal, and a way of telling people I left behind of my adventure as an Indonesian expat living in Arabia. Mainly it was for my Dad, who loved to hear/read about me and for my friends and other relatives who might wants to know about me, so that I don't have to tell them again and again the stories, besides the beauty of blogging is that I can add photographs to make the story more juicy.
The truth is, my Dad was too old to have his own Internet access, let alone to be able to read my blog. Friends and relatives: they acknowledge that I have 'that thing' in the Internet, but do they read it? NO!!!
Now, 7 years on, in between my dad has passed away, my readers come and go, my virtual friends, fellow bloggers have changed too, they have moved on, from blogging to tumbling and tweeting and maybe only Facebook-ing, so why am I still blogging? that's because I like it and love doing it.
Yes, I must admit that there are ups and downs in blogging, and the truths are:
Blogging is supposed to be a hobby, but I end up spending more time doing it than I've ever expected to.
Like other forms of journalism, blogging is no different. Prior to publishing my writing, I need to do some reading and research, so that what I write will not be total porky pies. Thus, it takes time to do the preparation, cooking and everything else before I can deliver.
My blog posts are always behind from when I actually want to post it.
I need to do some networking, visiting other blogs, do some reading and commenting so they will do the same favour and to get visited from other bloggers.
Networking means not only visiting other blogs but also setting up profiles for Twittering, Facebooking, Flickring, and other social networking media, just to tell people (not bloggers) that here I am….
Blog beautification is another thing; that is to make my blog attractive, easy to navigate around etc. I am not a techie and I know nothing about web design; thus I have to figure out everything myself, which also takes time.
Organizing the pictures to use as my blog illustration as well as for my photo-blog, which collection has become thousands now and yet I still don't know how to use them effectively.
I need to post regularly and frequently enough so that I can keep my readers at least occupied, not to mention Twittering, Facebooking etc., otherwise, my readers will go somewhere else.
Yes, I can upgrade myself like using a premium theme, or upgrade to a pro and using my own domain. The question is what's next after the upgrade? One thing for sure, I will spend more time trying to figure out how to operate the new theme instead of writing blog posts.
Yes, I have been blogging for nearly 7 years now, and yet I still think blogging is a hobby, which should not take more that 8 hours a day; I don't want to commit to become a full time blogger, as I still have my day job that pays and consumes most of my time; yet I can not stop blogging and thinking about it….
25.269420
51.518884