Besides for the mobile music trucks driving around the neighborhoods in the evenings to bring some joy and a fleeting bit of Simchas Beis Hashoeva spirit during CoronaVirus lockdown, different municipalities are putting out efforts to find ways to keep the residents spirits up, to keep them busy and to keep them entertained.
One of my kids saw a notice that people could register at the local Matnas, Community Center, to have a magician come to your sukka for a short, about ten minutes, private performance for the kids. One of my kids called the Matnas and registered for the show.
They told us which day the magician would come, but no details of when. Just be ready for the magician to come. We had to commit to staying 3 meters away from him at all times and it would be only us in the sukka with him for the performance.
This afternoon the magician came. A young man put on a nice little magic show for the kids and we all enjoyed. He left as fast as he came after the ten minute show, as he was running to the next sukka on his list.
Good job to Moshiko the magician and to the Iryah of Bet Shemesh via the local Matnas for arranging it and sending him and other magicians out around the city to bring some holiday joy to the kids.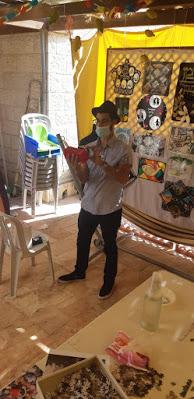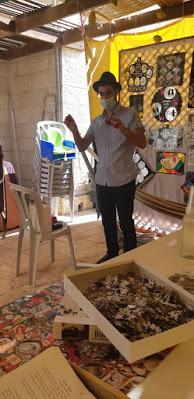 ------------------------------------------------------
Reach thousands of readers with your ad by advertising on Life in Israel ------------------------------------------------------