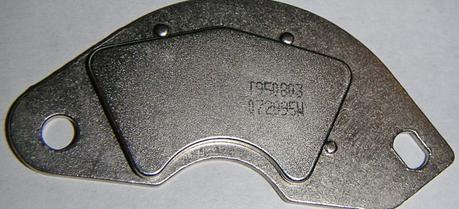 Neodymium magnet on a bracket from a computer hard drive.
Scientists at Case Western Reserve University have received a second $1 million grant from ARPA-E to develop a highly magnetic iron-nitride alloy to use in the magnets that power electric motors found in electric vehicles and renewable power generators.
Currently, neodymium magnets are the most widely used type of rare-earth magnets. Developed in 1982 by General Motors and Sumitomo Special Metals, neodymium magnets are the strongest type of permanent magnet made. They have replaced other types of magnet in the many applications in modern products that require strong permanent magnets, such as motors in cordless tools, hard disk drives and magnetic fasteners. Between 45,000 and 50,000 tons of sintered neodymium magnets are produced each year, mainly in China and Japan. As of 2011, China produced more than 95% of rare earth elements, and 76% of the world's total rare earth magnets.
According to ARPA-E, the U.S. produces a small fraction globally of industrial rare earths. Developing alternatives to the use of rare earths has the potential to reduce our dependence on these materials and will have a positive impact on our national economic and energy security. Also, as the U.S. spends nearly $1 billion per day on imported petroleum, improvements in magnet technology would enable a broader use of electric vehicles, which would help insulate our economy from unexpected spikes in the price of oil.
Since the transportation and electric power sectors account for nearly 75% of U.S. greenhouse gas emissions each year, better and cheaper magnets will help the widespread use of electric cars and wind power, significantly reducing CO2 emissions.
"A costing model puts neodymium–iron–boron used now at $60 per kilogram and our material at about $10 per kilogram," said David Matthiesen, associate professor of materials science and engineering at Case Western Reserve and the project's principal investigator.
Matthiesen's group believes it can make magnetic powder out of abundant and inexpensive materials found in the U.S.—iron and nitrogen. These materials can be compacted to form magnets with the desired properties.
"We've had to go to the old literature to learn what materials the industry was working on before rare-earth metals came along and why everybody has failed at producing a powder made of the material with the highest known magnetic remanence," Matthiesen said.
The ultimate goal of this project is to demonstrate this new magnet system, which contains no rare earths, in a prototype electric motor. This could significantly reduce the amount of greenhouse gases emitted in the U.S. each year by encouraging the use of clean alternatives to oil and coal.