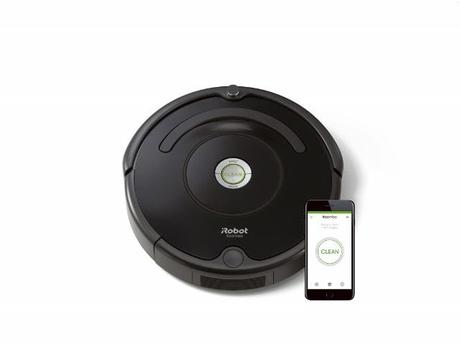 We love smart devices, don't we? That is why smartphones so quickly became a part of our life. But do you ever wonder, what's next? What new technology is going to rise next to add convenience to our life and become an essential part of it? Well, Smart Homes, Artificial Intelligence, and Domestic Robots are some of the top contenders. In a way, all these three technologies are connected and will help each other. Although Smart Homes and Domestic Robots might still sound a bit too futuristic for Indian consumers, Artificial Intelligence is already becoming a part of our life through the latest AI equipped smartphones.
And domestic robots might not be a stuff of too distant future either. Brands like iRobot are already making and selling robots that can work at home. In India, iRobot products are distributed by Puresight Systems Pvt. Ltd. via Amazon.in, iRobot's India website, and iRobot's offline retail outlets.
The latest iRobot that Puresight has brought to India is the Roomba 671. It is a vacuum cleaning robot. Priced at MRP of Rs. 37,900 (Launch price is Rs. 29,900), this sleek robot is Wi-Fi connected and designed for efficient vacuum cleaning without the tiring hassle of the conventional vacuum cleaners.
The main features of Roomba 671 vacuum cleaner robot include:
Sleekness that maximizes its reach: Roomba 671 has a height of only 9.2 cms. Due to this sleekness, the robot can easily navigate through the household furniture and move under bed, couch etc. It has a very simplistic design which looks elegant and sturdy.
Edge sweeping brush: Roomba 671 is equipped with special edge sweeping brush that help it to clear away the dust and debris from the room's edges and corners.
Dirt Detect Technology: Roomba 671 comes equipped with iRobot's patented Dirt Detect Technology. This helps the robot to automatically detect the high-footfall regions that require more intensive cleaning.
iAdapt Navigation: The brand's proprietary iAdapt navigation uses a suite of smart acoustic and optical sensors that help in the robot's efficiency of cleaning and navigation. This technology enables the iRobot to make 60 decisions/per second.
3-Stage Cleaning: Roomba 671 is equipped with a 3-stage cleaning system. The Edge-Sweeping Brush sweeps debris away from the room's edges and corners. Then, its Multi-Surface Brushes work to lift dust, dirt, and hair from floors and carpet etc. Finally, Vacuum suction pulls in the dirt, dust, and debris to leave the surface clean.
iRobot Home App: Through this app, the Wi-Fi enabled Roomba 671 can be controlled and monitored from anywhere. It can also be scheduled to start the cleaning automatically, up to 7x per week. The iRobot Home app also delivers cleaning reports and users can access the App-based support in case of some problem..
Amazon Alexa and IFTTT Compatible: iRobot Roomba 671 is compatible with Amazon's Alexa home assistant. So, it can be voice-controlled. It can also be control through an IFTTT recipe. IFTTT (If This, Then That) service uses various applets to automate various tasks. For example, using an IFTTT recipe, you can make Facebook to automatically post a pre-set message at a pre-set schedule. Or you can use IFTTT to automatically share your Instagram pics to Facebook or Twitter. As Roomba 671 is IFTTT compatible, you can use applets for conditional tasks like "Make Roomba start cleaning after I switch off my Smart TV."
Battery: It can do continuous cleaning for an hour on a single charge. Once its battery needs charging again, it automatically returns to its Home Base charging station to get charged.
In The Box: iRobot Roomba 671, Home Base Charging Station, Line Cord, Owner's Guide and Documentation Package, 2 Years Warranty Card provided by Puresight Systems Pvt Ltd., Product Registration Info Card
I haven't seen Roomba 671 in action so I can't really say how efficient it is. But its features do sound impressive. Its 3-stage cleaning, AeroVac filter that uses tangle-free brushes, and its compatibility with smartphone app, Amazon Alexa and even IFTTT is really impressive. Priced same as a high-end smartphone, this robot vacuum cleaner can help remove the hassle from vacuum cleaning.