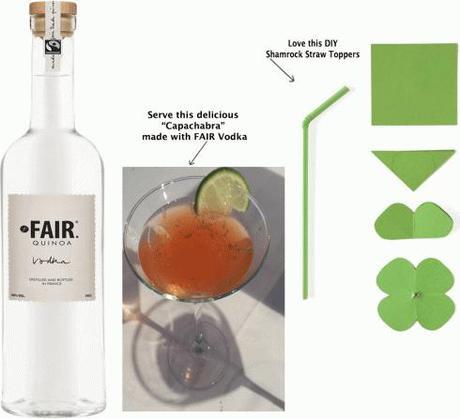 My favorite season is spring, and St. Patrick's Day, coming up this Monday, symbolizes for many that spring has indeed sprung. St. Paddy's Day is kind of a big deal here in NYC, where we start celebrating days before by wearing green outfits and reveling at all the local pubs. I am not a big drinker, but this year I've decided to host some festivities and hone my bartending skills, giving me the perfect excuse to try out some Quinoa Vodka. I realize vodka isn't exactly guinness or irish whiskey, but it still captures to holiday 'spirit'. So, while perusing the aisles at my local wine and spirits shop, I came across Fair Quinoa Vodka. If you're into the green lifestyle, you're probably familiar with quinoa, the wonder-carb. It has high quality protein, riboflavin, is relatively low in calories, and is gluten free.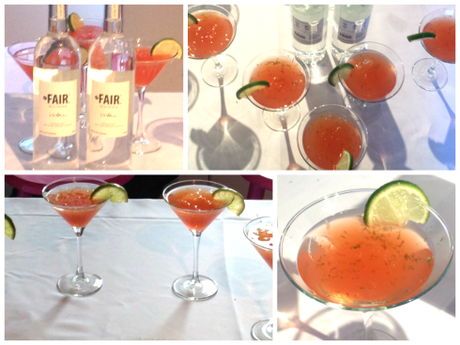 I've rounded-up a few of my favorites to try from Fair Quinoa Vodka: 
Fairly Modest Mule
, 
Vesper
, 
Lemondrop
,
The Smokey Pueblo
. I've also experimented with the 
Capachabra
 concoction as seen above, and am planning to add 
Shamrock Straw Toppers
 as decor for a nod to Saint Patrick's Day (See above and below for DIY).
Ingredients – Capachabra
- 2 oz FAIR Vodka
- Splash of Sanpelegrino Blood orange water
- Lime zeste on top
DIY – Shamrock Straw Toppers
Materials: Card stock, Scissors, Bendable drinking straws in green
Steps
STEP 1
- Cut card stock into 5-inch squares.
STEP 2
- Fold each square in half diagonally, creating a triangle, and then fold in half once more to make a smaller triangle. Trim off outer points as indicated.
STEP 3
- Unfold paper halfway, as shown. Cut a small V at the bottom, in the center.
STEP 4
- Unfold shamrock, and crease diagonally, reversing the direction of the fold; repeat to make another diagonal crease. Slide card-stock shamrock onto one end of a green straw. Make a wish, and have a sip!
So, I am curious, is St. Patty's Day as a big of a deal in your town? Will you be celebrating?

Facebook

 | 

Instagram

 | 

Twitter

 | 

bloglovin'

 | 

Pinterest
Sources: DIY, Image
Filed under: Decor, DIY, Hostess, Living