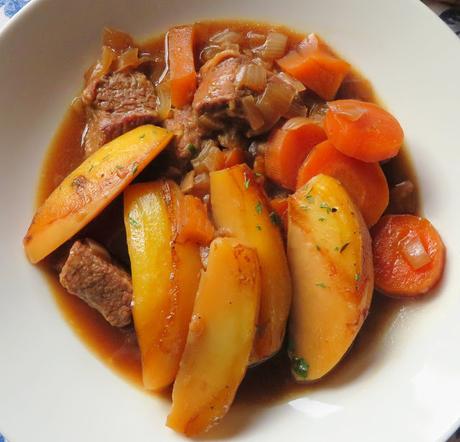 Lately we have all had a hankering for a Irish Lamb Stew.  There is someting about the winter months that makes us long for comfort foods and you can't really cook anything much more comforting than a delicious Lamb Stew.
There is also something quite evocatively comforting about the idea of a bowl of Irish Stew. I never did get to Ireland when I was in the UK, but it was on my list of places I really wanted to go, and we had really planned to go last year, but Covid you know and then everything else happened.
Life has a way of surprising us with its twists and turns.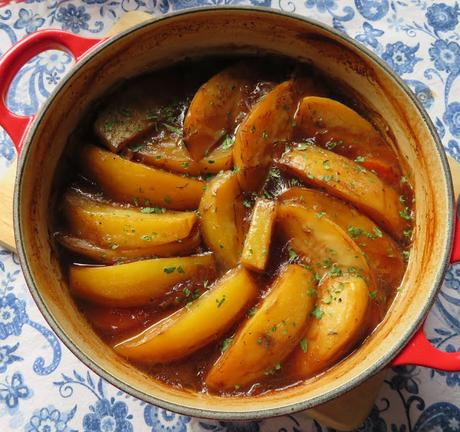 For all that I have heard and read about it, Ireland is a beautiful country.  They say there are more shades of green in Ireland than the imagination can conjure up and I know personally that the people are quite simply wonderful. Humble and sincere, open and friendly people.  Much like the people of Nova Scotia I would say.  I have heard it said that if you meet an Irishman in a pub, next thing you know he will be inviting you over to his for supper and to meet the family.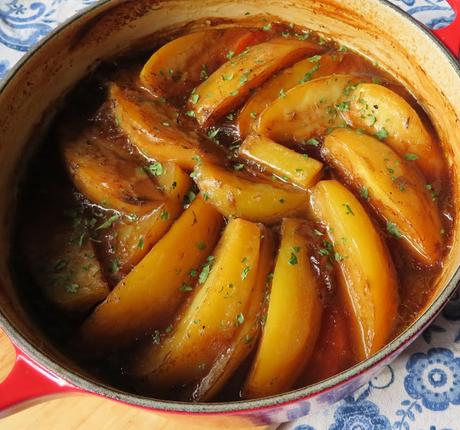 You'd probably be taken home to a humble abode, perhaps even a thatch roofed stone cottage. Cosy and quaint with an open fire on the hearth
Chances are you would be lucky enough to be served a fine hot bowl of this simple, yet very delicious Irish Stew.  Filled with chunks of tender meat, rich gravy and some humble, yet perfectly cooked root vegetables.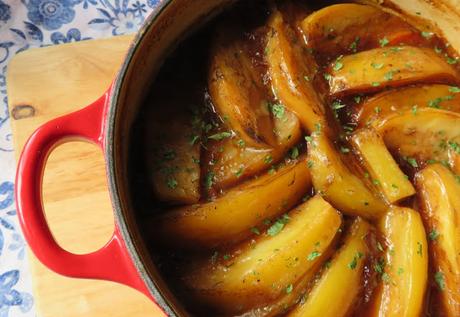 Oh but I am waxing poetically now am I not? Oh well . . .  we do tend to think romantically of Ireland and the Irish.  I blame that old black and white movie, The  Quiet Man.
It is one of my favorite old films. I just love it.  I loved every film Maureen O'Hara was ever in. She was one of the best actresses of that era.  My ex MIL looked very much like her, except she was blonde.  What a beauty.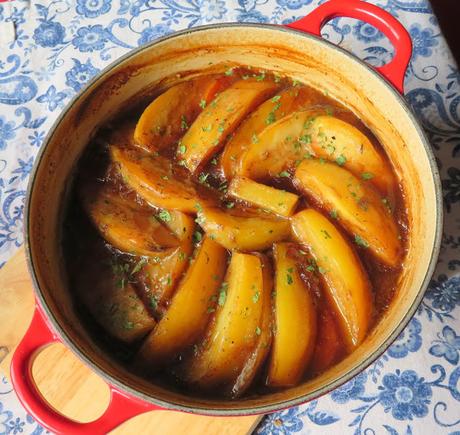 Lamb was not something we ate a lot of when I was growing up. In fact, I can only remember mom serving it to us once.  Lamb Chops. They smelt like mittens burning in the skillet.
None of us would eat them.  I rather suspect they were very old lamb chops or even mutton which had a very distinct strong flavor in comparison to lamb.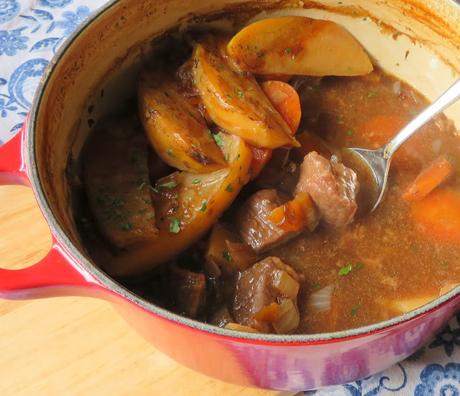 My great Grandfather raised lamb on his farm up in Inglisville on the North Mountain. He had quite a large farm, with milk cows, sheep, chickens, vegetables, etc.  The old house and some out buildings are still there, very much run down. I believe it is owned by one of my mother's cousin's family now.
Mom was born in one of the bedrooms of that house and always spoke of sitting on the porch as a child with her older sister Thelma, scraping the flesh from a raw turnip with a spoon and eating it.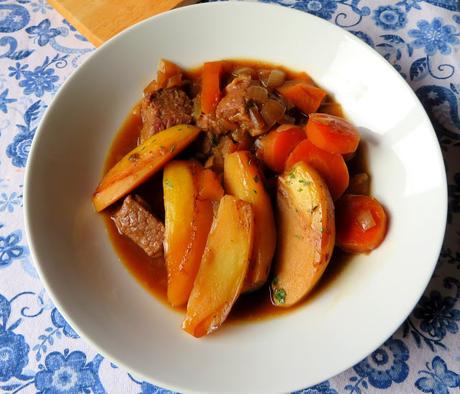 My sister and I have always said that if we won the lottery we would try to buy up the old property and return it to its former state.  What a dream that would be.  
Mom loved lamb and often spoke about a delicious lamb stew she had been served in the hospital when she was in there having given birth to my brother.  That would be almost 61 years ago now as my brother will be 61 at the beginning of March.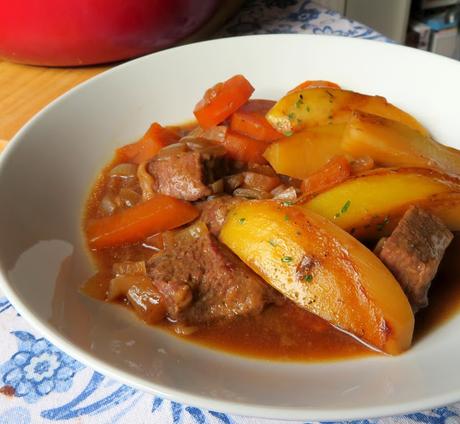 My father has always said he doesn't like lamb, however he has eaten it without knowing it was lamb in a shepherd's pie according to my sister.  Ignorance is bliss they say.
Often what you don't know can't hurt. I had a moose steak once and didn't know it.  Best steak I had ever eaten. However had I known it was moose I would have been a bit queasy about trying it.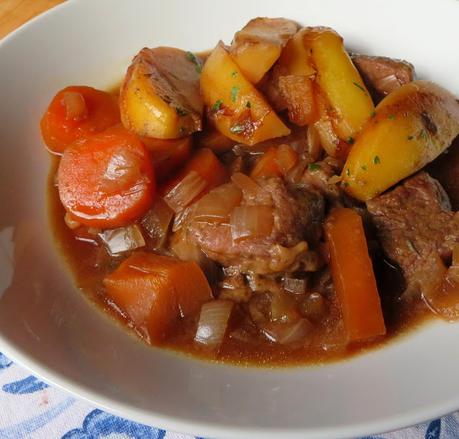 There is nothing fabulously outrageous ingredient-wise about this stew. Simple ingredients put together in a very simple way. 
Stewing Lamb, potatoes, carrots, onions, celery. Thyme, stock and seasoning. A bit of oil for browning the meat.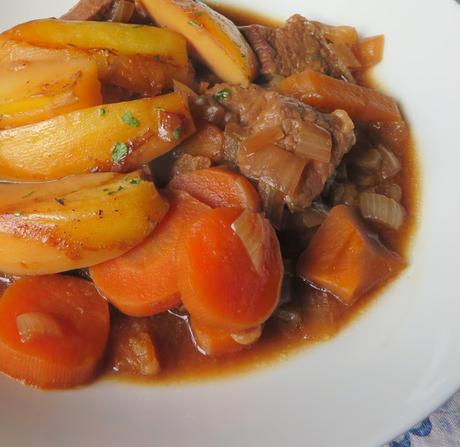 The meat is browned first.  Much of the favour for a stew comes from the sticky juices that are left in the bottom of a pan after you have browned the meat.  
I put the lamb on to brown while I am prepping the vegetables.  That way I tend to forget about it, which means it gets nicely browned without me worrying it every few minutes and stirring it about. (One of the secrets to any good stew made with red meat, is in a good and proper browning. The meat won't brown nicely if you keep moving it about.)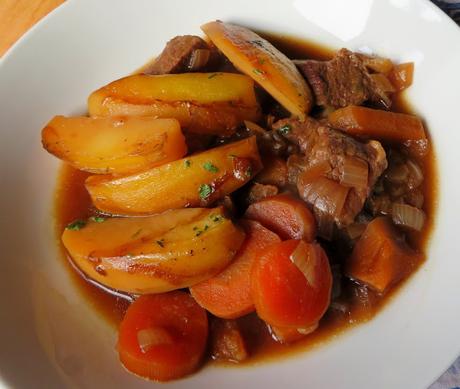 The vegetables in this stew are also semi softened in pan . You will need a good stove top to oven casserole dish.  Something with handles that can easily go into the oven. I use my enamel cast iron casserole dish, which is perfect for this sort of thing.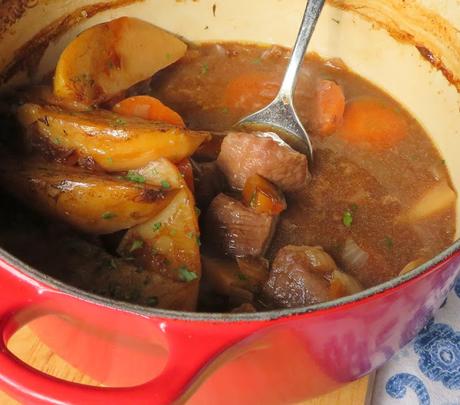 You also need some stock. Lamb stock is what is preferred for its subtle flavours, but you can also use beef or chicken or a combination of the two.  Aside from lamb stock, I have to say my preference is chicken stock as it has a much milder flavor than beef.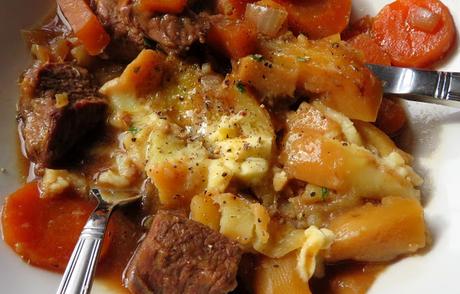 Altogether this is a fabulous stew that is comforting and pleasing. You have wonderfully tender meat and vegetables as well as a lovely broth.
I confess I enjoy mashing my potatoes into the broth and dotting them with butter.  There is nothing  more delicious on this earth. I quite simply adore simple meals like this. All you need on the side is some crusty bread.
Irish Lamb Stew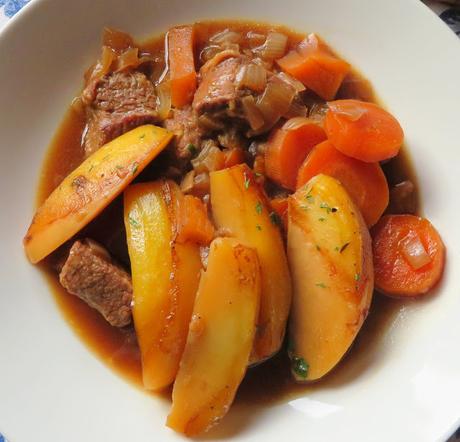 Yield:
4
Author:
Marie Rayner
prep time: 25 Min
cook time: 2 Hour
total time: 2 H & 25 M
Rich and delicious with fork tender chunks of lamb, a rich gravy and plenty of simple vegetables. Comfort food at its best. This is quite simply delicious.
Ingredients
1 pound lamb stewing meat, cut into cubes
2 TBS light olive oil
2 large carrots, peeled and chopped
2 sticks celery, peeled and chopped
1 large onion, peeled and chopped
2 sprigs of thyme
salt and black pepper
1 1/2 pounds potatoes, peeled and sliced intowdges or rounds
2 1/2 cups (600ml) lamb stock  (can use beef or chicken, or a combination)
1 knob of butter
chopped parsley to garnish if desired
Instructions
Preheat the oven to 165*C/325*F/gas mark 3.
Heat a medium, heavy bottomed flame proof casserole (with a lid) over medium heat. Add half of the oil and heat. Once the oil is heated, add the lamb and brown, over medium heat until well browned. Working in batches if necessary.
Remove the lamb from the casserole and set aside.
Add the vegetables and the remaining oil. Cook, stirring occasionally, over medium low heat, until they have begun to soften a bit.
Return the lamb to the pot along with any juices. Season with salt and pepper. Add the sprigs of thyme.
Pour in the lamb stock.
Lay the potatoes on top covering and pushing them down a bit into the stock. Dot with butter.
Cover tightly. Bake in the heated oven for 2 hours, until the meat is beautifully tender and all of the vegetables are cooked, uncovering the casserole for the last fifteen minutes to lightly brown the potatoes.
Spoon out into heated bowls to serve. Sprinkle with parsley if desired. Crusty bread goes well.
Did you make this recipe?
Tag @marierayner5530 on instagram and hashtag it #EnglishKitchenCreated using
The Recipes Generator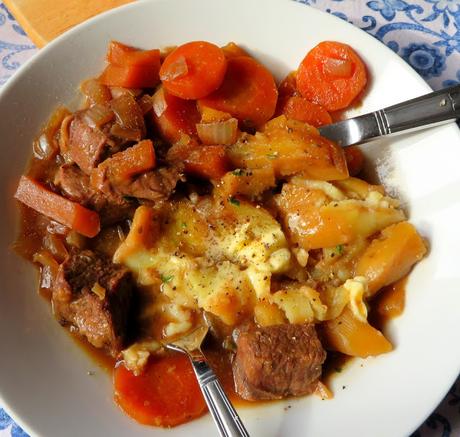 This content (written and photography) is the sole property of The English Kitchen. Any reposting or misuse is not permitted. If you are reading this elsewhere, please know that it is stolen content and you may report it to me at: mariealicejoan at aol dot com Thanks so much for visiting. Do come again! 
Follow my blog with Bloglovin