Happy St. Patrick's Day! I'm only an eighth Irish but it's enough for me to look at this holiday as a must have; it helps I love the food and drink from Ireland. Considering today is my cocktail day, it would seem the perfect opportunity to make an Irish Coffee for you but I've done that before so it had to be something different; a bit more unique. I was provided with some amazing Irish Whiskey from Knappogue Castle with samples from the 12, 14 and 16 year old bottlings. Deciding to save the premium aged bottles for sipping on the rocks, I thought the baby of the group, the 12 year old would be appropriate for a cocktail but my mind wandered quickly. First I was going to make Irish whiskey caramels but quickly segued to the idea of making caramel sauce and that was a good thing.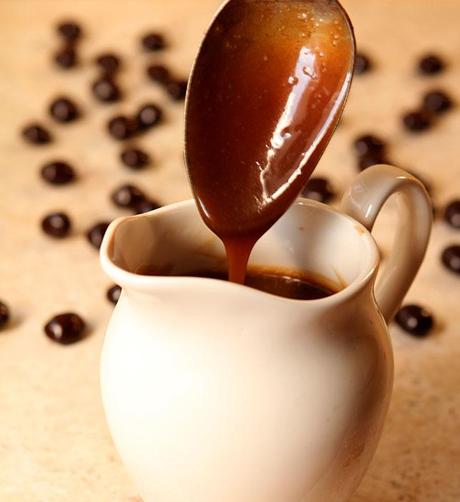 I don't have a process for developing a recipe; sometimes the best ideas come to me while in the middle of preparing a dish and that was the case here. If I wasn't going to make Irish coffee; then I would make an Irish Whiskey Caramel Sauce. Combining the best of that cocktail and upping the volume just a bit with espresso and it quickly became Irish Coffee Caramel sauce and I do believe  I've got a winner. It's dark and luscious and while more noticeably flavored with coffee; that hint of warm whiskey permeates the end result in a way that is reminiscent of the experience of drinking an Irish coffee. A bit of brown sugar in the sauce completes the transition. I've made my fair share of caramel sauces infused with booze; this is by far my favorite. By FAR!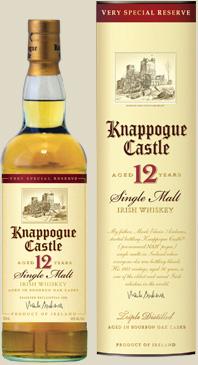 I did taste some of the Knappogue Castle 12 year old straight up; it was going to have to hold its own against espresso in this recipe and I thought it perfect. Mellow, well rounded and balanced with medium intensity; it has a bright, elegant fruit and mildly spicy taste with a medium-long, clean finish. It's a simple thing but was definitely noted that all of the Knappogue Irish whiskeys are made without artificial coloring; the aging does produce a different hue for each year but it is noticeably lighter in color than you might expect. All in the name of science of course, I sampled the older kid in the family and it is stunning with a price tag to match. This one won't be going on the stovetop; it's going under lock and key to be saved for those moments when nothing will do but a nip of the good stuff!
As if this caramel sauce isn't decadent enough; I wanted a bit of texture too so I whipped up a batch of candied walnuts using some more espresso. They are absolutely good enough to eat on their own. I know this for a fact; I should have made more.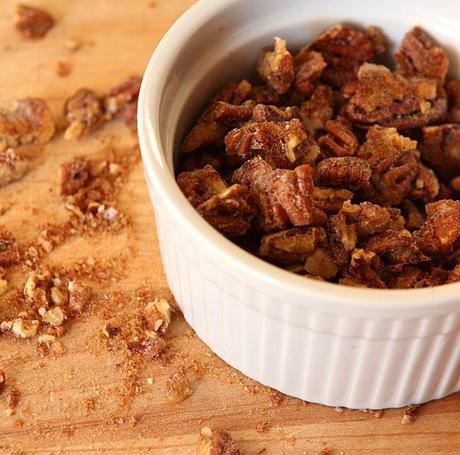 Caramel sauces can be tricky and while it takes a bit longer, I'm of the camp that likes to start combining a bit of water with the sugar; also adding a small amount of corn syrup helps to prevent the sauce from crystallizing and I've had great success with this method. Since I wanted a taste reminiscent of Irish Coffee, I used half granulated and half brown sugar in this recipe. Pay close attention to the color of the sauce when you start as it will already be brown; as it starts to darken you'll want to give it a bit more leeway on color. It will get darker than normal but this does not mean it's burning. I took a quick photo of mine in process and it's a bit like a darker copper penny.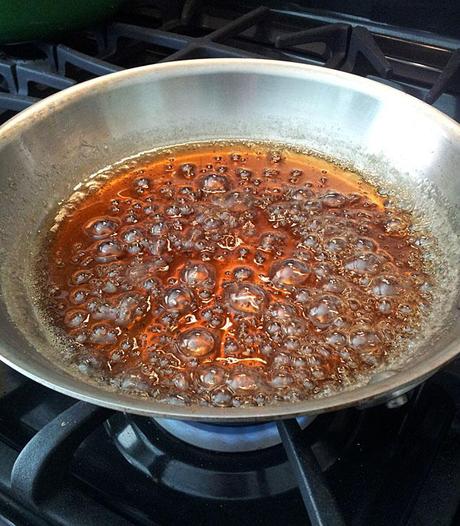 I've got dessert now for tonight but I have to share this Cabbage and Bacon Colcannon with Irish Whiskey Steak that I"m making for dinner. I posted it last year and if you've never heard of Colcannon, this might be a good time to discover it. A fantastic blend of mashed potatoes and cabbage; my version has bacon too. I accompanied it with steak with Irish Whiskey sauce; I think I've been waiting all year to have it again!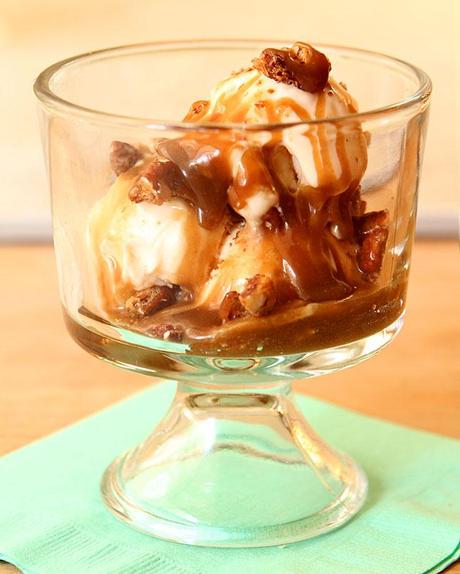 Have a fun and safe (yep that's the mom in me!) St. Paddy's Day.


Irish Coffee Caramel Sauce with Irish Whiskey and Espresso
Prep Time: 10 minutes
Cook Time: 30 minutes
Ingredients
For the Caramel Sauce:
1/2 cup heavy creamy, warmed
1 Tbsp dried Espresso
6 Tbsp Irish whiskey
1/2 cup granulated sugar
1/2 cup brown sugar
1 Tbsp light corn syrup
1/4 cup water
1 Tbsp butter
6 Tbsp Irish Whiskey
For the Walnut Crumble:
1 large egg white
1/4 cup packed light brown sugar
1/2 teaspoon instant espresso
Pinch of salt
1 cup walnut pieces coarsely chopped
To Serve:
Put 2 small scoops of ice cream in a bowl; sprinkle with a large spoonful of the walnut crisp mixture. Top with another scoop of ice cream and drizzle with caramel sauce. Sprinkle additional walnut crumble on top. Serve.
Preparation
Combine the warmed cream with the espresso powder and stir to combine; set aside.
Put the Irish whiskey into a small saucepan and heat on medium high; reduce by half. Watch closely, this evaporates fast! Set aside
In a large saucepan or skillet combine the granulated sugar, brown sugar and corn syrup in the middle of the pan.
Add water to surround other ingredients (we want to keep sugar off the edges). Put your pan over medium heat and stir with a spatula until the sugars melt and the liquid starts to bubble.
Remove your spatula and let the mixture come to a boil; DO NOT STIR.
Cook over medium heat; watching closely (meaning...do not walk away!). Cook until the color of a dark penny. Since this sauce begins with brown sugar it will be a bit darker than normal caramel but not burnt.
Once the caramel is dark amber in color remove it from the heat and carefully pour in the heavy cream. The mixture will bubble vigorously and some of the caramel may harden but just continue to warm over medium low heat until it melts and becomes cohesive.
Gently stir in the reduced whiskey and butter; remove the pan from heat and allow to cool.
To Make the Walnut Crumble:
Preheat oven to 325°F and make sure a rack is in the middle of the oven.
Line a rimmed baking sheet with aluminum foil and lightly spray foil with cooking spray.
Whisk the egg white with brown sugar, espresso powder and a pinch of salt in a bowl until blended.
Stir in the chopped walnuts and mix until coated; spread the mixture into the prepared pan, forming an 8" X 10" solid layer.
Bake until dry to the touch, about 25 minutes; remove from oven and cool completely on a baking rack.
When cool, loosen mixture with a spatula and remove from the pan; break into small bitesize pieces.
Notes
This mixture is extremely hot; I recommend you do not do this with babies or pets on the floor around you. Do not taste test the caramel until it has cooled; you will burn your tongue!
2.4http://www.creative-culinary.com/irish-coffee-caramel-sauce-with-irish-whiskey-and-espresso/This recipe brought to you by Creative Culinary | A Food and Cocktail Blog | Website: www.creative-culinary.com
I was provided with samples of the Knappogue Castle Irish Whiskey but all commentary is my own.