Many people like you, me, and others are in chaos regarding the beauty of our personality, yes HAIRS, it is pretty difficult to decide what we should do to keep our hair to stay super cool and beautiful, which products would be best for our hair, which brand offers the best. This confusion brought us to discuss the pros and cons, the similarities and differences among the most hyped brands just like iRestore vs Capillus.
There are many people across the world that lose their hair due to different reasons, some take too much stress, some are facing serious crises either economic or social, but as we all know losing hair is pretty much easy than letting them regrow. Low-level laser therapy for hair growth appears to be safe and beneficial in both men and women, according to a 2014 study.
Over the course of 16 weeks, a study of 41 males ages 18 to 48 revealed that laser hair treatment resulted in a 39 percent increase in hair growth.
iRestore vs Capillus: The Comparison
To the extent, hairs are discussed, they are constantly growing, and the follicles are constantly producing new hairs from body resources. Taking care of the diet also nourishes hair. For strong, healthy hair, certain proteins, lipids, vitamins, and minerals are very crucial. iRestore and Capillus are among the well-known brands, offering different products for regrowth of hair at the places they are no more.
We can never know such a product to its depth until we use it and get the results or see better results and reviews of other users. As iRestore and Capillus are good in ratings and reviews, so, are discussed more across the world. Let's have a brief comparison of iRestore and Capillus products effectiveness;
Similarities between iRestore and Capillus
Clinically Proven
Both the brands have products, clinically proven and are practically checked before being launched in the market.
Healthier and Thicker Hair
Capillus along with the iRestore hair growth products promise you to reduce your hair loss issue by resolving your issue of thinning hair by ending up with the results of healthier and thicker hair. 
FDA cleared
Their products are FDA cleared so that you can easily buy them and use them. Moreover, they are also ranked in class 2 medical devices.
Harmful Side Effects
Neither products of iRestore nor of Capillus have any harmful effects known so far as they are laser-based and are also approved by professionals.
Immediate Results
Hair regrowth products never give you results immediately after their application, they always take time in presenting you expected results, so are the results of iRestore and Capillus products.
Recommended Read: Illumiflow vs iRestore
Differences between iRestore and Capillus
Appearance
iRestore is a hair loss treatment device made of fine plastic whereas the Capillus laser cap is just a cool-looking cap, with a wire connected to the battery pack and hands free which looks much similar to a baseball cap. iRestore catches more eyes in the public because it's so cheap and easy to use.
Difference in action
Due to their tendency to spread out, the LEDs on the iRestore make it nearly impossible to focus on a single location of the scalp. This provides Capillus a significant advantage over the iRestore helmet; Capillus is a more established brand that developed this after extensive testing to promote the best hair growth possible in every way.
Pricing
Capillus is more expensive than iRestore, although both products are less expensive than hair surgeries and anti-hair loss medicines in the long run.
Money back guarantee
If you don't see obvious improvements after using the hair restoration helmet, iRestore offers a 12 months money-back guarantee and even covers your shipping costs. On the other hand, the Capillus makers want a 25% discount on the purchase price, and you will be responsible for the delivery costs.
Usage time
For better results, you must wear the Capillus Hair Cap for six minutes every day for a year. While iRestore should be used three to four times a week for 25 minutes each time.
iRestore
The iRestore Laser Hair Growth System is an FDA-approved hair loss treatment and medical device that stimulates hair regrowth in men and women suffering from alopecia, receding hairline, baldness, and thinning hair. iRestore employs clinical-strength laser technology to treat people with alopecia (genetic hair loss) or thin hair in need of volume. The laser helmet employs a painless medical laser to biologically stimulate scalp cells, causing hair to grow thicker and healthier. Some of the iRestore essentials are reviewed below;
iGrow Essential Laser Hair Growth System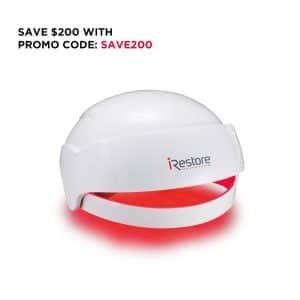 Whether you're a man or a woman, iRestore's essential clinical-strength laser hair restoration technology can help you grow thicker, fuller, and healthier hair faster. You can use it along with the other hair loss therapies; doctors believe low-level laser therapy (LLLT) and igrow laser hair growth helmet can be utilized to improve the outcomes of other hair loss treatments.
Buy Now
iRestore Vitamins Hair Gummies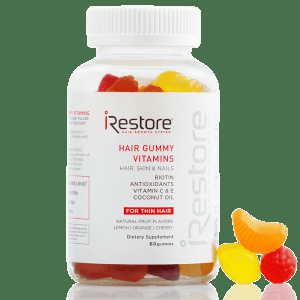 60 gummies packed in 1 bottle, are considered the solution to all hair loss problems. They use a specific blend of premium ingredients to increase hair health, density, thickness, and fullness, as well as nourish the hair follicles and strengthen the nails. They are cruelty-free, natural-based and all flavored with natural ingredients. These hair vitamins candies contain no preservatives, gluten, or animal products.
Buy Now
iRestore Anti-Hair Loss Shampoo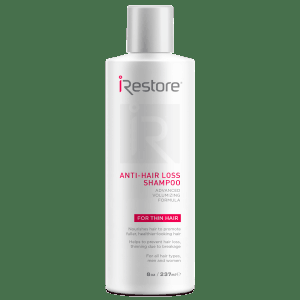 iRestore hair growth and anti-hair loss shampoo have powerful hair rejuvenation, hair loss shampoo is designed to fight balding, thinning hair, and receding hairline for both men and women. The product contains Antioxidants, Amino Acids, Aloe Vera, Green Tea Extract, and other essential ingredients which are among the essentials of hair care.
Buy Now
Capillus
Capillus is a daily hair restoration treatment that uses growth devices and low-level laser therapy (LLLT) to reduce hair shrinkage and increase hair volume. It is an FDA-approved, non-invasive, and discrete treatment for hair loss. Its product line is given below;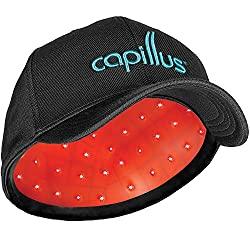 It is a safe and easy treatment for hair loss and if you are facing hair loss either due to heritage or some other reason, it is for you. It is an effective hair loss treatment in the guise of fashion. It can be combined with topical hair loss foams, prescription drugs, or both before and after hair transplant surgery. EVERY DAY, YOU GET THE MOST COVERAGE IN JUST 6 MINUTES. With 410 mW total energy output, the flexible fitting CapillusUltra can easily treat your scalp in the time it takes to have your morning coffee.
Buy Now on Amazon
CapillusRX 312 Diode Mobile Laser Therapy Cap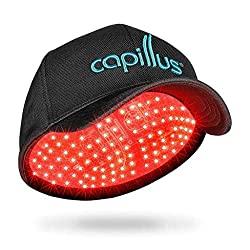 According to certain research, it is beneficial on its own in stimulating your scalp to develop new hair. The benefits of laser caps therapy include the fact that it is safe, effective, noninvasive, and absolutely painless. The device's cap claims that photobiomodulation via low-light therapy is the secret to these outcomes and that it is a safe and effective technique to regrow your hair. You should wear the cap for six minutes a day (it has an auto-shutoff mechanism) for as long as you want to keep your results.
Buy Now on Amazon
Conclusion
 Now, after relating all the points, we are here to the point that if someone is facing hair loss,  there's no need to get tense, as it is curable now, and WHOA the laser treatment is a painless treatment. Those days are gone when people used to try different self-customized treatments to cure problems of hair loss. These treatments have made life easier as they cure the biggest concern of the affectees.
By comparing some important points, we can evaluate which product of which brand suits our hair, our skin, and most importantly our budget. According to price point, if we see, we better conclude that iRestore is winning hearts in this regard. Physicians also recommend laser treatment for such issues as they are medically proven, painless, feasible, and better reviewed.