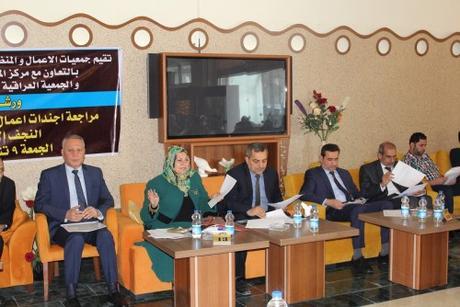 In Iraq, former governments spent billions of dollars to sustain the public sector at the cost of future generations with little foresight of potential economic ramifications. The public sector expanded to such a degree that the private sector was left with few opportunities to contribute to the economic development of the country. Past governments used the public sector as a tool to gain the votes and support of unemployed youth by employing thousands of them in public sector jobs prior to each election cycle. As a result, they were able to increase their political patronage. The public sector system of political, ethnic, and sectarian quotas, which divides positions in the Iraqi government based on sect, ethnicity, and political affiliation regardless of competency, resulted in inefficient administrations lacking capability and demonstrating an inability to provide necessary services. Such incompetence and weak rule of law increased corruption, permeating both the public and private institutions in the country. This chaotic situation offered an opportunity for corrupt political parties and their nominated governmental officials to abuse official positions and accumulate wealth and power.
The emerging political class formed partnerships with crony capitalists and established their own proxy businesses, which they favored through their own governmental decision-making. These corrupt and dubious business practices thrived between 2004 and 2014 from lucrative governmental spending due to the thriving oil prices and ineffective governance measures. As a result, the emerging political class failed to create a productive economic base that offers job opportunities, lowers unemployment, provides services, and improves the quality of life. In contrast, the economic policies favored imports and increased consumption at the cost of production and growth. Such faulty polices have paralyzed productive private sector growth and resulted in the dominance of the Iraqi rentier state.
The middle and poor classes in society suffered the most from these corrupt policies, as they experienced severe unemployment rates, reaching 30 percent in 2015. Moreover, in 2012, 18.9 percent of Iraqis lived under the poverty threshold according to the World Bank. Systemic corruption, weak public services, and poor quality of life for the Iraqi people led to fervent demonstrations and protests across Iraq in early 2014. The demonstrations expanded to a number of different provinces and intensified to such a degree that protestors broke into the parliament and cabinet headquarters in the heavily fortified Green Zone in Baghdad. Storming the green zone and damaging the Parliament and Prime Minister offices proved that the consecutive governments in Iraq had not addressed disaffected constituencies, particularly the youth, the unemployed, and the impoverished. Given the perception of the Green Zone as the seat of the Iraqi higher political class, its attack was a symbolic gesture made by local Iraqis who were dissatisfied that their voice was not represented and their basic needs were not being met.
Prime Minister Abadi has made notable efforts to address these issues through reshuffling the ministerial cabinet. To address the ongoing corruption and dissatisfied populace, Abadi's government promised to employ technocratic, transparent, and competent ministers to parliament in a move that confronted powerful political parties and alliances. In his own article published last year in the Wall Street Journal, Abadi expressed the urgent need for change arguing that, "…from "ghost soldiers" who collect paychecks far from the battlefront to "no-show" employees who enrich themselves on the home-front, corruption robs Iraq of the resources needed for national defense and basic services."[1] However, he has faced significant backlash for these efforts, causing additional political stress on the Iraqi government.
And yet, despite all of the volatility within the political, security, and social sectors, Mr. Abadi's government recognizes the need to reform, both economically and politically, and is working to transform the Iraqi economy from its rentier economic model to a productive one. For instance, his government is currently implementing a program that facilitates access to credit for small and medium business sector owners through a lending program. The loan amounts to $4.5 billion and will be offered to small and medium businesses with low interest rates in order to promote their growth and invest in their future prosperity. In an attempt to prevent corruption and ensure fair distribution of the loans, Mr. Abadi conducted a crackdown on the corrupt leaders of the main financial institutions in Iraq prior to kicking off the lending process. Moreover, a committed and genuine Iraqi private sector continues to advocate for sustainable, democratic, economic reform that will boost the national economy.
As an example, CIPE partner the Iraqi Businessmen Union (IBMU) led a reform campaign focused on enforcing the Iraqi government's custom tariff law, which is designed to revive the production sectors, stimulate entrepreneurship, and create a business friendly environment. Custom tariffs are necessary for a healthy economic environment in addition to being a prerequisite for joining the World Trade Organization and will incentivize the local industries by providing a competitive edge, enhancing productivity, and stimulating growth.
CIPE has been working in Iraq since 2003 to advance economic and democratic reform initiatives. CIPE's partners in Iraq include chambers of commerce, business Aassociations, think tanks, civil society organizations, investment commissions, and journalism organizations. During the 13 years of cooperation, CIPE and its partners developed effective tools for economic reform including business agendas and policy papers as well as 'Business Barometer' surveys that inform policy makers on the policy reform priorities and raise the private sector's profile in democratic dialog. CIPE supports initiatives in Iraq that empower the private sector's ability to engage the government in dialog that enhances economic reforms and promotes democracy.
[1] http://www.wsj.com/articles/we-have-heard-the-iraqi-people-1441754816
Mohammad Al Saeedi and Abigail Stoltzfus are Program Coordinator and Program Assistant (respectively) for the Middle East and North Africa at CIPE.