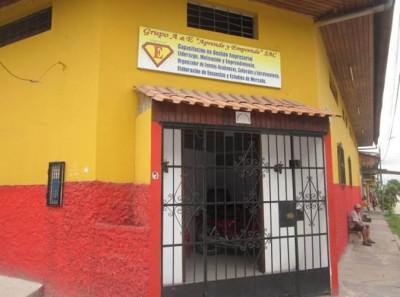 Grupo A&E's headquarters in Iquitos, Peru. (Photo: Staff)
If you are an avid runner looking for a unique location for your next race, consider checking out the jungle scenery and oxygen-rich air in the Amazonian city of Iquitos, Peru. On February 12, the main city streets were free of the normally ubiquitous swarm of motorcycles and three wheel rickshaws called moto-kars as nearly 500 runners participated in Iquitos' first ever Amazonica 10 kilometer marathon – an event designed to engage the community in the promotion of sport and healthy living.
The race was organized by Grupo A&E, a business founded and operated by Jorge "Coco" D'Azevedo, alum of the first EmprendeAhora (formerly LiderAcción) program in 2008. With this first marathon, Grupo A&E added to an already large list of services that it offers, including: training in business management, leadership, motivation, and entrepreneurship; organizing academic, cultural, and entertainment events; and conducting surveys and market research.
In mid-January I had the opportunity to meet Coco in the Grupo A&E office in Iquitos to learn about his background prior to EmprendeAhora, hear about his experience in the program, his business venture, and what it is like owning and operating a business.
As the son of two university employees, Coco grew up thinking he would be an employee somewhere too. He got the entrepreneurial bug in high school, however, when he and his friends began noticing the difference between those who had money and those who did not. Based on their observations, business owners had money, employees did not.
But while in university Coco reverted to the dependent mentality and worked at various internships while trying to decide which career he would pursue. Then his mother told him about EmprendeAhora – a scholarship program which she heard about on RPP Noticias. After a bit of investigating, Coco's desire to learn about entrepreneurship drove him to apply. It didn't hurt that the scholarship covered 100% of the program costs – something rare for Iquitos.
About the program, Coco said, "it is an experience that changed me and made me see other points of view and other ways of life." EmprendeAhora showed him that being an entrepreneur, having his own business and working for himself was an achievable alternative to working as an employee somewhere. Coming from a university in Iquitos with a leftist anti-business approach, the lessons and practical application of business concepts during EmprendeAhora helped Coco better understand what it means to live (and make a living) in a democratic, free-market economy.
After completing the EmprendeAhora program in early 2009, Coco started a precursor to Grupo A&E called LIVE (Leadership, Values, and Entrepreneurship). The core mission was to strengthen entrepreneurship and leadership skills among Peruvians – starting at the regional level. Coco included the leadership theme because it was something that he was particularly drawn to and felt was vital as a result of EmprendeAhora.
In the first year of operation, LIVE organized two major conferences at the regional level: the 1st Congress on Leadership and Entrepreneurship, and the National Congress of Successful Women. In 2010, LIVE changed its name to Grupo A&E, registered and obtained its Tax Identification Number. This year nearly 1,000 people attended events on entrepreneurship and leadership organized and led by Grupo A&E.
In late 2011, the business expanded to include production of a television program entitled "Somos Empresa Loreto (We are Business Loreto)." The objective of the program is to show off cases of entrepreneurs, businessmen and women, and businesses in the Loreto region, sharing their experiences and advice for others that wish to create their own businesses.
Another new line of work builds off of the $6,000 investment in a professional camera for the television program. Branching out into offering marketing services, Grupo A&E has begun filming commercials for other businesses in the region. Because the camera was already purchased for the purpose of the television program, the money made from this marketing service is pure profit.
In the last four months of 2011, Grupo A&E's costs averaged around 45% of the total income. With the new services and low overhead costs, this number is likely to improve in the first half of 2012. Coco is confident to say the least. When asked what his Plan B is, he said, "there is no Plan B because this is the company that I like and want to have and it is certainly going to work!"
With so many different services and activities going on, Grupo A&E is clearly not a one-man show. In fact, Coco has two business partners in this venture and three employees: an editor, a production assistant, and an administrator. An accountant is shared with the restaurant of one of his business partners. Although Coco oversees all of the activity, his title on his business card is simple: Motivator.
It is a fitting title. During my time in Iquitos it was hard not to be motivated by such a passionate person with big ideas for his city and country. Not to mention by someone that took the risk of starting his own business at such a young age with the added pressures of a wife and young child at home. That said there are days when Coco has to give a little extra motivation to himself. "Perseverance is the key characteristic of an entrepreneur. In my experience, it is difficult, things do not go your way, but you must persevere."
The idea behind EmprendeAhora was to create a training program that promotes entrepreneurship and market economy as the best way to overcome poverty in Peru. While many alumni have gone on to create successful businesses selling products or other types of services; through its training programs, television show, and marketing services, Grupo A&E has made a business out of promoting the basic concepts of EmprendeAhora and sharing it with a wider audience.
The success of the Amazonica 10K on February 12 may lead to a surge in marathons in Iquitos – promoting a healthier life style and community engagement. Here's hoping that Coco's success as an entrepreneur, leader, and motivator leads to a similar swell in the number of entrepreneurs – promoting a more democratic and economically developed Peru.