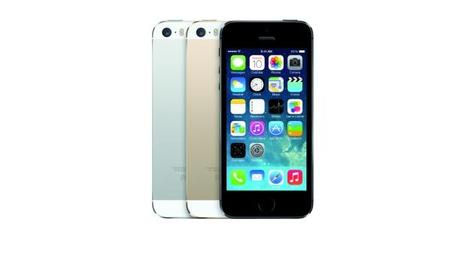 The iPhone 5S will ship in three different finishes: "space gray," silver, and the previously-rumored gold. While there's only minor changes between the iPhone 5 and iPhone 5S aluminum bodies, the iPhone 5S also includes a redesigned home button. And after weeks of speculation, the iPhone 5S will in fact include a fingerprint scanner for security.
The days of the four digit passcode are gone, thanks to Touch ID built right into the sapphire glass home button. A stainless steel detection ring runs outside the button, which turns on the sensor to read your fingerprint. Even better, Touch ID will allow you to authenticate for apps, such as iTunes. No more entering that password!
The new A7 is the world's first 64-bit chip on a smartphone. According to Apple, the new processor is 40-times faster than the original iPhone, and graphics are 56-times faster; the chip runs OpenGL|ES 3.0 like the newer Nexus 7. According to the developers of Infinity Blade 3, the iPhone 5S feels "five times faster" than its predecessor. The newly revealed M7 chip will work alongside the A7, as a "motion coprocessor," constantly measuring motion data from the gyroscope and accelerometer.
And thanks to an improved battery, we should see a nice upgrade in the iPhone 5S getting through the day. Apple stated the iPhone 5S will offer 10 hours of 3G talk time, and 250 hours of standby.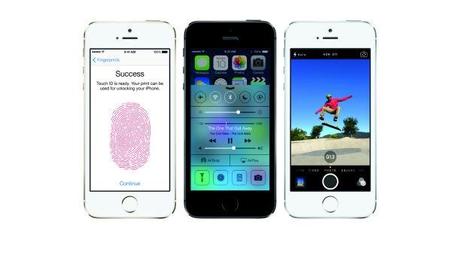 The iPhone 5S also adds an improved camera, even if the megapixels remain at only eight. A F2.2 aperture with a 15 percent larger sensor features 1.5 micron pixels and a five-element lens. The addition of dual-LED flash allows the camera to offer what Apple referred to as "true tone flash" to capture both warm and cool tones, especially important for accurately portraying skin tones. As previously announced, the iPhone 5S will ship with the new iOS 7 mobile operating system.
The iPhone 5S starts at $199 for a 16GB model with a two-year contract. The 32Gb model is $299, and the 64GB model is $399. The iPhone 5S will also be available unlocked for $649, 16GB; $749, 32GB; and $849, 64GB. Apple has also announced new cases for the device, available in multiple colors for $39. The iPhone 5S will be available on September 20.