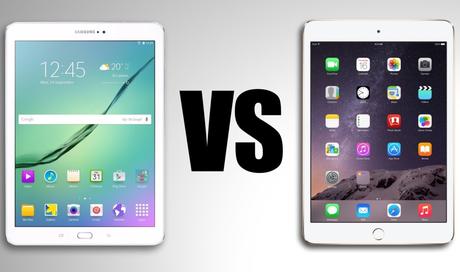 The iPad Mini 4 was overshadowed by the iPad Pro and it didn't receive much attention when it was unveiled in September. The tablet is a big upgrade over its predecessor and it's in a direct competition with Samsung's smaller version of the Galaxy Tab S2, which was officially released in September.
Designs and Displays
The iPad Mini 4 is slightly taller and comparatively slimmer than the iPad Mini 3, measuring 203.2×134.8×6.1mm (its predecessor has a thickness of 7.5mm), and it has a sleek aluminum body available in three color options: Space Gray, Silver and Gold. On the right side were placed the volume and silent/screen rotation buttons, at the top sit the microphone and headphone jack and at the bottom are situated the speaker and dock connector slot. The WiFi variant weights 299grams, while the 3G/LTE is 5 grams heavier.
The Tab S2 is much slimmer and lighter, measuring 198.6×134.8×5.6mm and weighting 265grams (WiFi) or 272grams (LTE). It has a less premium design, as its body is made of two variants of plastic, and its variants of colors include white and black gold. You'll find the power button, volume rocker and microSD card slot on the right side, while on the bottom side sit two speakers which are separated by a headphone jack and a Micro-USB port.
The iPad Mini 4 has a Retina display sized at 7.9-inch, which offers a resolution of 1536x2048pixels at 324ppi and an aspect ratio of 4:3. The Tab S2 sports a Super AMOLED with almost the same diagonal (it's only 0.1-inch larger), but it supports the same resolution. However, it seems that the pixel density is a bit lower at 320ppi, but the difference is unnoticeable.
Hardware
The iPad Mini 4 doesn't have the latest A9 processor, but the A8, which has two cores clocked at 1.5GHz, which are backed by 2GB of RAM. There are three variants of internal memories, just like on the iPhone 6S: 16/64/128 GB and the pricing starts at $399.
The Galaxy Tab S2 is powered by an Exynos 5433 processor with four cores clocked at 1.9GHz and four cores clocked at 1.3GHz, but the chipsets supports 3GB of RAM, and this configuration works perfectly with Android v5.0.2 (Lollipop). Also, you can expand one of the two variants of internal memories of 32GB or 64GB up to 128 GB.
Cameras and Batteries
Both tablets are equipped with an 8MP back camera which lacks LED flash and other high end features, but the images have a quality above average, they're pretty accurate and realistic. The front cameras are recommendable for making video calls, because their resolutions are very low - 1.2MP (iPad Mini 4) and 2.1MP (Galaxy Tab S2).
The iPad Mini 4 is kept alive for ten hours by the 5124 mAh battery (19.1 Wh) when making voice calls, but the Tab S2 claims to last up to 27 hours with its smaller 4000 mAh battery.