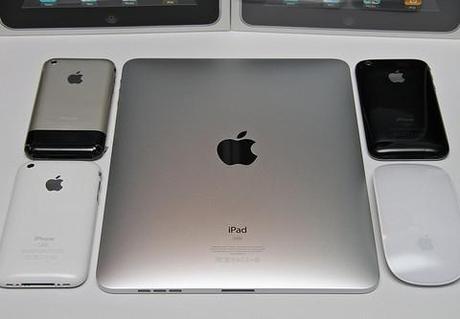 Just can't get enough? Photo credit: Yutaka Tsutano http://www.flickr.com/photos/ivyfield/4486938191/
While much of the world has barely stopped squealing with excitement about the iPhone 4S, released by Apple last week, rumours about the next iPad, the iPad 3, are already franticly circulating. The rumours have spawned from a suggestion that Apple is increasing its production of iPad builds in the next few months. When will the update arrive? What will it look like? What new features will it have? Nobody knows, but let's guess anyway!
The supply chain. Susquehanna Financial analyst Jeff Fidacaro has kick-started the rumour mill, by telling AllThingsDigital that "Apple is ramping up its fourth-quarter iPad builds to between 12 and 14 million, from between 11 million and 13 million." He went on to reveal, "since our last month supply chain checks we are now seeing 600,000 to one million iPad 3 builds showing up on the plan for the fourth quarter of calendar 2011." This all means that Apple are readying themselves for a launch of the new model sometime in early 2012. Possibly.
March of the iPads. The iPad 2 was launched in March 2011, so many expect its successor to appear in March 2012. However, Don Reisinger at CNET doubted the March release. He reported that The Linley Group, which follows the mobile processor industry, claimed in August that the iPad 3 will contain an "A6" processor, with "four cores instead of the dual-core A5 in the iPad 2", but that this technology wouldn't be available in an iPad until June 2012.
iPad Mini? Will the next iPad be a cheaper version of the tablet? Apple Insider quoted analyst Brian White suggesting that Apple will be unveiling a lower priced iPad to compete with Amazon's new table, the Kindle Fire. He said the release would be "mini" in price, not size. The world is holding its breath.
More on Apple

iPad Baby mistakes magazine for iPad
The deification and Dianafication of Steve Jobs
iOS 5: revolution or more of the same?
iPhone 4S: Siri — game-changer or gimmick?
Steve Jobs: Not a God?
Top 10 Steve Jobs quotes
Steve Jobs: tribute images
Apple after Steve Jobs
More rumour mill »