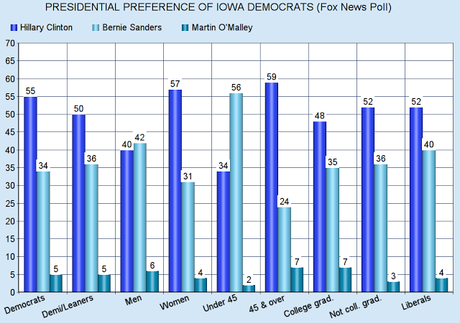 Hillary Clinton remains the strongest Democratic candidate in Iowa -- with a 21 point lead among Democrats, and a 14 point lead among Democrats/Leaners. Bernie Sanders splits the vote among men, and has a nice advantage among voters under age 45, but Clinton has bigger advantages among women and those 45 and over (and those two groups tend to vote in larger numbers).
The Republican race remains very volatile in Iowa, and it looks like there is a new leader in that race in Iowa -- Ted Cruz. He has a 2 point lead over Trump in one poll (within the margin of error), and a 10 point lead in another. Cruz seems to be claiming much of the evangelical support that once favored Ben Carson (who continues to fade). Marco Rubio also finishes in double-digits in both polls. All other candidates are far behind.
The Fox News Poll was done between December 7th and 10th of random samples of 357 likely Democratic caucus voters and 450 likely Republican caucus voters. The margin of error for Democrats is 5 points, and for Republicans is 4.5 points.
The Des Moines Register / Bloomberg Politics Poll was done between December 7th and 10th of a random sample of 400 likely GOP caucus voters, and has a margin of error of 4.9 points.