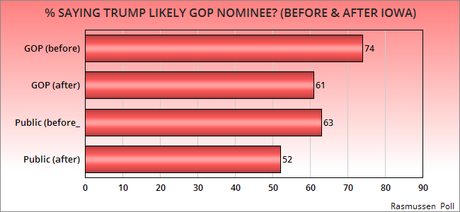 This is the latest result from the Rasmussen Poll on the likelihood of Donald Trump being the GOP presidential nominee. The survey was done on February 3rd and 4th of a random national sample of 1,000 likely voters, with a margin of error of 3 points.
It looks like losing the Iowa caucuses has caused some to change their minds about Trump being the likely GOP nominee. Before Iowa, 74% of Republicans and 63% of the general public said Trump was the likely nominee. After Iowa, only 61% of Republicans and 52% of the general public think that. That's a 13 point drop among Republicans, and an 11 point drop in the general public.
Does it mean he can't win? Not at all. He would still have to be considered the favorite -- especially if he wins New Hampshire and South Carolina, and he has significant leads in both states. But it does show he's not infallible, and if he wants to win, he's going to have to take things more serious than he has in the past.