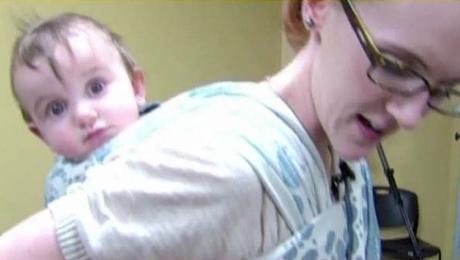 Freak Out Nation
An Iowa woman is leading a baby-wearing, gun carrying workshop, because there's nothing cuter than Second Amendment babies and we all know that guns and toddlers are a great combination.
"If you're a mother, and if you're an armed mother, they have to. You have no choice," said Melody Lauer/mother-gun instructor, as if she really feels there is no other choice.
"I was actually working at both a gun store and a parenting center at the same time," Lauer said.
She's not trying to convince parents that they should carry a gun. Simply encouraging them to do it safely, if they choose to.
"We have seen a huge insurgence in young mothers – mothers of young children, wanting to get into firearms. And what's happening is we don't have instructors that are addressing their needs. So they just do it. They don't do it right and then they end up having an accident," Lauer said.
Who are these 'insurgent' mothers who are rising up against the government? She may not know the definition of actual words, but you can put the safety of your children in her crazy hands.
"If you have baby on one side, it's best to have gun on the other side," Lauer said as if no one knew about this concept before.