From most accounts, iOS 7 adoption rate in US has been soaring very fast, faster than latest Android version and maybe the fatest in iOS history. What about main European countries?
As the leading mobile ad server in  most of Western European countries, delivering billions of ads to hundreds of top ranking mobile properties (apps and site) that reach millions of mobile users, Smart AdServer is able to share  trustworthy adoption rates of iOS 7 in Europe.
This graph below shows iOS 7 share of mobile traffic (Page Views) among iOS users: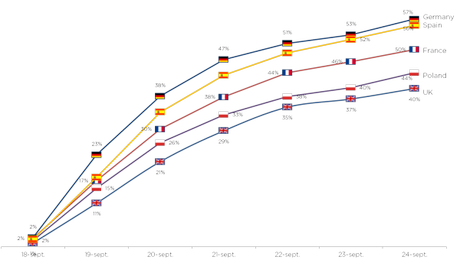 iOS 7 Adoption Rate
Germany ranks first with a 57% adoption rate, versus 40% in UK.