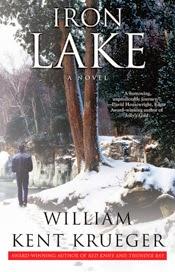 IRON LAKE

Atria Books Hardcover, 1998 ISBN 0-671-01696-2
Atria Books Trade Paperback, 2009 ISBN 978-1439157282
Buy it from IndieBound - Powells - Poisoned Pen - Simon & Schuster
Part Irish, part Anishinaabe Indian, Corcoran "Cork" O'Connor is the former sheriff of Aurora, Minnesota (population 3,752). Embittered over losing his job as a cop and over the marital meltdown that has separated him from his wife and children, Cork gets by on heavy doses of caffeine, nicotine, and guilt. Once a cop on Chicago's South Side, there's not much that can shock him. But when a powerful local politician is brutally murdered the same night a young Indian boy goes missing, Cork takes on a harrowing case of corruption, conspiracy, and scandal.
As a blizzard buries Aurora and an old medicine man warns of the arrival of a blood-thirsty mythic beast called the Windigo, Cork must dig for answers hard and fast before more people, among them those he loves, will die.
Praise for Iron Lake:

"Krueger's debut offers wonderful characters and makes the woods and waters vivid, wild and menacing... [A] fast pace, punctuated with humor and surprise in a book that is sure to appeal to fans of Nevada Barr and Tony Hillerman. This is mystery as allegory..."
—Booklist (starred review)
"Iron Lake is an explosive brew: one part James Ellroy, one part Stephen King, one part Jack London, and all parts terrific... A truly remarkable first novel."
—David Housewright, Edgar Award-winning author of Penance

"A fresh take... Krueger makes Cork a real person—and the author's eye for the details of everyday life brings the town and its peculiar problems to vivid life."
—Publishers Weekly (starred review)
"I can't remember reading a better first novel than this one."
—Drood Review

"A wildly intelligent, all-Minnesota novel."
—St. Paul Pioneer Press

"An excellent debut... Krueger knows how to write. If you have not yet read this one, grab a weekend and see for yourself."
—Bookline

"Minnesotan Krueger has a sense of place he's plainly honed firsthand in below-zero prairie. His characters, too, sport charm and dimension... This first-timer's stamina and self-assurance suggest that O'Connor's got staying power."
—Kirkus Reviews

Awards:
Anthony Award for Best First Novel
Barry Award for Best First Novel
Minnesota Book Award
Loft-McKnight Fiction Award
Feel free to join Les and I in our read-along! I'm sure we'll post our thoughts near the end of February.