This weekend we had dinner with a bunch of our friends in San Francisco. It was one of those great, decadent dinners that lasted for ~3 hours: where the food keeps coming to the table and more people keep joining you throughout the night. Initially, it was just going to be me, my husband and two of our friends who recently moved to SF. Then at the last minute another friend of mine decided to come. Then once we were at dinner, my brother who had decided to leave work to take a break for dinner joined us, and then my friend's wife who had just gotten off work (she's a doctor) came right before we ordered dessert! It was awesome. And the best part was – everyone we got to have dinner with had just moved to the bay area in the past month or so – it's great having more of our close friends nearby.
We ended up at Zare at Fly Trap - a Mediterranean restaurant with modern Persian influences in SOMA. The food here was absolutely delicious and had tons of options for meat eaters (like the spice-roasted bone marrow with bergamot preserve, persian baby pickles and toast which two of our friends tasted and loved) and vegetarians alike. We ordered a TON of appetizers to start the meal and I took as many pictures of them as I could. Some of the highlights…
A lentil, pomegranate soup with greens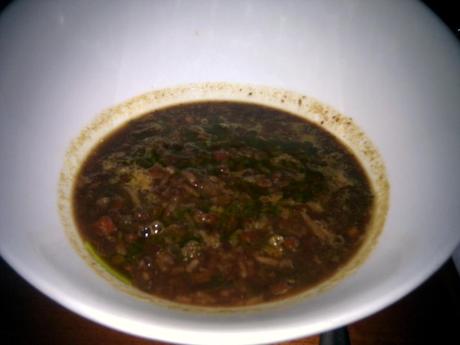 This was definitely a different take on traditional lentil soup: it was tangy, a little sweet, and had great texture. The tangy/sweet nature of the soup did throw off my husband (as he passed the bowl back to me and said "nope" after tasting it). Luckily, he had his own bowl of soup to enjoy: he ordered the last bowl of potato leek soup which he LOVED.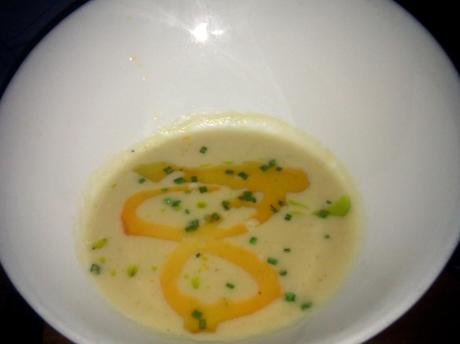 We also ordered the Vegetarian kufteh tabrizi served with mediterranean avocado salsa, mushrooms and a seven spice emulsion. The kufteh tabrizi was basically a ball of rice, beans, spices and vegetables, breaded & lightly fried, and the avocado salsa was finished off with feta and olives – delicious!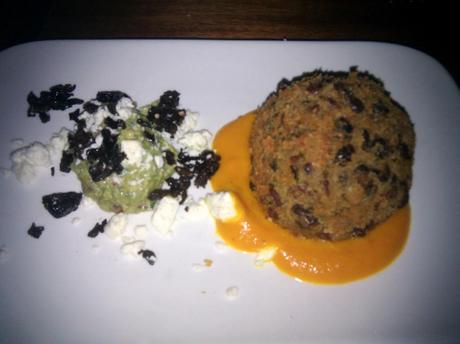 Soon after that, the wild mushroom cake arrived with asparagus and lemon confit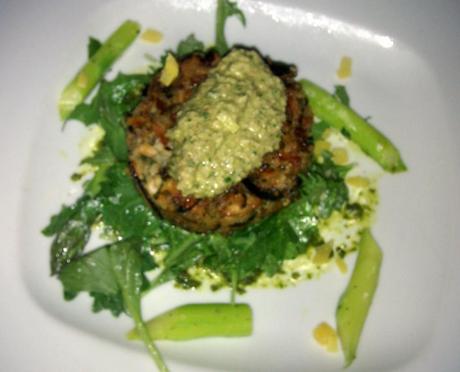 For our entrees, we ordered the stuffed squash with orzo, baby carrots, cauliflower, almonds, cinnamon, sage and spicy yogurt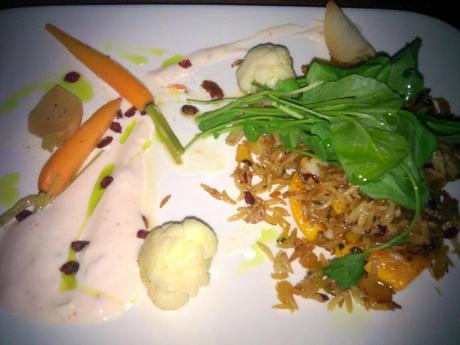 My husband ordered the arancini which were saffron risotto balls, breaded and served with spicy marinara sauce. These were ridiculously rich but oh-so-good.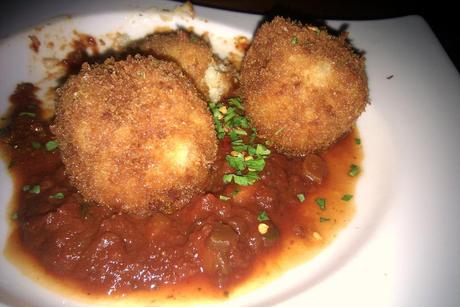 Before I move on to dessert, I have to mention that the wine and cocktails here are incredible. My husband and I ordered a Spanish wine (the tinta barroca) and a Lebanese wine (the cinsault/syrah) – both were incredible. I'm not usually a cocktail drinker but the "Minted Memory" (bombay gin, pimms no. 1, minted vinegar syrup, lemon) and the "Cardamom my dearest" (old raj 46 gin, cardamom, lime) were so tasty I could have kept drinking them!
Now of course, this meal wouldn't be complete without dessert, and we ordered quite a few of them! We had the butter cake served with roasted peaches, a peach & fruit syrup, and vanilla ice cream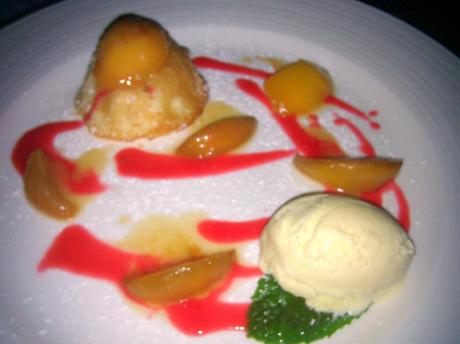 My friend ordered the Faloodeh with lime sorbet, rice noodles, preserved cherries, pistachios, and an aromatic pisco. The flavors in this dessert were a little too strong for me, and I think the texture of the noodles threw me off – but other folks at the table liked it!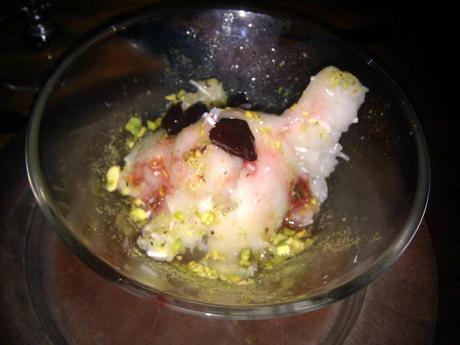 A couple of our friends ordered the Buttermilk-Vanilla Bean Panna Cotta with fresh berries, a beer & caramel sauce, and an olive biscotti. Normally I'm not a fan of panna cotta – but this one was so creamy and light it was my favorite dessert of the night!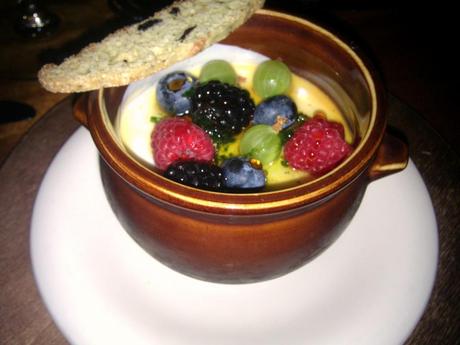 Zare was a great restaurant find in SOMA (for those of you who don't live in SF, that's "South of Market") and I'd definitely recommend checking it out if you haven't been before! After dinner, my husband and I headed to the bar at the Intercontinental Hotel for a friend's birthday which was a really nice, relaxed atmosphere and was good to catch up with people we hadn't seen in a while. It was a perfect night in SF full of friends, food, and drinks. I can't believe it's already Monday morning! Hope all of you had a great weekend too!