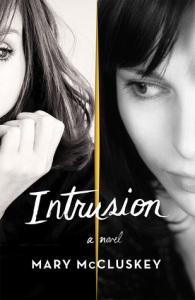 Psychological Thriller
4*s
As so often happens with my reading, this is the second book in a row I have read about a couple grieving the death of a child, although I am reviewing this book first due to the fact that it is to be published tomorrow, and I am kicking off the blog tour for this book.
In Intrusion, Kat and Scott Hamilton are reeling from the sudden death of Chris, their son, an only child, aged seventeen. While Scott has thrown himself back into his work, Kat's job in a PR firm is more than she can handle, unable to be the chirpy person she once was to handle such a role. A few months after Chris's death, Scott needs Kat to attend a dinner hosted by his Los Angeles law firm. Mary McCluskey's prose captures this event without overt drama but we are left in no doubt how hard Kat finds the ordeal.
Then comes the entrance we are promised in the synopsis, Sarah Cherrington, a former friend from England surfaces and whilst Kat is initially ambivalent to her appearance, her sister Maggie has strong views on Sarah and shares them voraciously.
At the beginning of this year I said how refreshing it was to read a psychological thriller that dealt with female friendship, well there have been a few of these this year, and this is a worthy addition to the pile. It is clear from the outset that there is unresolved history between Kat and Sarah but with Kat at her most vulnerable, plus the fact that Sarah is putting a lot of work in Scott's direction it appears that bygones are going to be left just as that.
The author shows fantastic flair in giving an undercurrent of tension whilst simultaneously presenting us with everyday events such as Kat's interactions with her fun and flirty neighbor Brooke who bakes bread for the couple and keeps an eye on Kat, allowing her space but keeping her connected to those around her.
This of course is also the story of a marriage under immense pressure. With both parties managing their grief in very different ways, Scott on the whole is clearly being as supportive as he feels possible a fact Kat acknowledges by musing that they have almost switched roles since Chris's death.
Inevitably with this storyline there were parts that spoke loudly to me; Kat's scenes with her grief counselor made me smile as she appears to have got the most unsympathetic counselor on the planet but the words she said, I'm sure are repeated by people in similar roles the whole world over. And she is one of the people in addition to Maggie and Brooke that Kat should listen to, but of course it wouldn't be much of a story if the characters did the sensible thing! In this book this didn't feel unrealistic though, as we had the scene set early on to show us Kat's fragility and therefore her blind spots are far more understandable than may otherwise be the case.
This was one of those books that I consumed at a rate of knots. The storyline moves at a pace and while the premise is not exactly novel, the execution lifts it above some similar books about female friendship. I particularly enjoyed the natural dialogue, the precise scene setting and the slow reveal of what it was that caused the rift between the two young women at the end of their years at university.
I received my copy of Intrusion from Midas PR on behalf of the publishers Little A in return for this my honest opinion.
Check out my blog tomorrow where you can read all about Sarah Cherrington in a post written by the author Mary McCluskey.