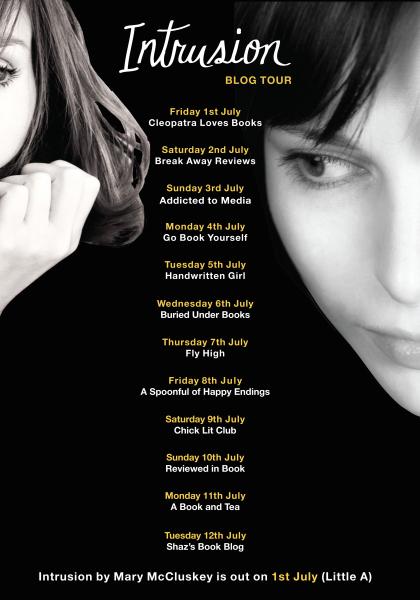 Yesterday I wrote a review for Intrusion by Mary McCluskey which is a psychological thriller with depth with a focus on female friendship.
To kick off the blog tour for Intrusion the author, Mary McCluskey, has kindly agreed to write an introduction to one of the main characters – so I now present Meet Sarah Cherrington
If I were to take you somewhere glamorous tonight, a celebrity party, say, or a theater opening and introduce you to Sarah Cherrington, your first impression would most likely be – she's beautiful.   Beauty gets our attention.  You might notice her poise and confidence, her expensive clothing.  She would be charming on first meeting. She has that quality, found in charismatic people, of making the person she is with feel like the only person in the room who matters:  the eye contact intensity, the warm smile, the ability to listen and (apparently) empathise.
When readers first meet Sarah, in the early pages of Intrusion, as she begins to intrude into the lives of Scott and Kat Hamilton, she is a successful woman with a lot of charm and a head for business. She's clearly wealthy:  she wears designer clothing; she has a number of luxury homes.  As readers get to know Sarah better, the fact that she is beautiful and charismatic will cease to matter.  If asked to describe her, they are more likely to use words like manipulative, controlling, vengeful.   Damaged?
Yes.  Sarah is indeed damaged. A childhood of careless neglect has left scars. Not the neglect of physical abuse, or grinding poverty but the neglect of indifference – a father who moved to another country without saying goodbye, a mother with clinical depression so severe that she chose suicide, even knowing that her young daughter was the person most likely to find her body.
Imagine the loneliness of this childhood: Sarah was sent away to boarding school at a young age and in an attempt to garner attention from her remote parents, got expelled from a number of them. Her circle of friends changed constantly.  She was nervous of bringing friends home because of her mother's mercurial moods.  Even at home she felt in the way.  Her mother's fragile mental health and obsessive love for her husband did not leave much room for Sarah.
After her mother's suicide, a succession of aunts took over her upbringing until the one who took her in, one who actually cared for her: Helen.  But Helen, for all her Patrician attitude lived in a kind of genteel poverty – recycled clothes, old furniture, unheated rooms.  Sarah, despite her aristrocratic background, was poorer than her school friends.
All of these factors helped create a woman both ambitious and needy.  A dangerous mix. It is this combination that has made her calculating, manipulative and now, in adulthood, determined to succeed.  She will get what she wants. Whatever it takes. And she is vengeful. Those who have wronged her, hurt her, even simply disappointed her, will pay the price.  Readers will distrust her, of course.  They should.  They may overtly hate her.  But perhaps, even as they condemn her actions, hate what she does, what she is trying to do, they will understand what is propelling her into such egregious acts.  I hope so.
Intrusion by Mary McCluskey is out 1st July (£8.99, Little A) you can check out my thoughts on this book HERE