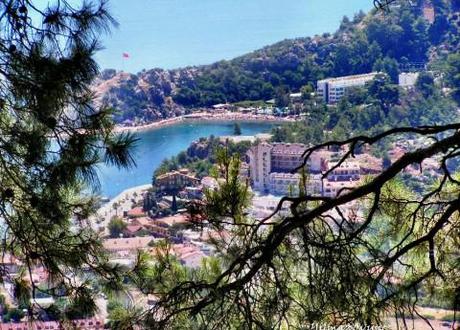 Beautful Marmaris, Turkey - but how are the kebabs? And the massages? Photo credit: Yilmaz Ovunc, http://www.flickr.com/photos/visitturkey/4022176653/
I had been in Turkey for fewer than five hours and I'd been given three complimentary teas and shaken the hands of about 50 men. I told all, bar one (and you wouldn't blame me if you saw him), that I had a boyfriend. I don't, but they tend to leave you alone if you say that.
The guidebook said that the infamous Turkish hospitality could be quite mercenary in Marmaris, but I couldn't wipe the smile off my face, because people seemed genuinely friendly. And the man talent really was quite exceptional. I was loving practising my two Turkish phrases, 'merhaba' – hello – and 'tesekkür edirim' – thank you – and everybody was just so impressed I knew any Turkish at all here. I was a hit in this town!
And then it didn't stop.
The whole afternoon they were at it. Everywhere I went people wanted to talk to me, help me, be nice to me, shake my hand, marry me.  And so it was that somehow I was talked into having a massage from the pansiyon owner. Let's call him Mustafa. Mustafa was quite the man about town. As well as running the pansiyon, he had a boat from which he took excursions, and he was also a massage teacher in Istanbul. At least that was his story, but I have grave doubts about its veracity.
The price for said massage went from 10 euros to five euros to free within a sentence. Because I am a nice person, a good person. I had some misgivings, especially when he said, in the course of describing the process, "It's easy. You just take off your clothes and I rub my cream and it is very good. You sleep very well."
The whole you just take off your clothes spiel set little alarm bells off in my head, I've got to admit, but Mustafa seemed pretty harmless and the pansiyon was full, making it easy to scream for help should something go wrong. I agreed.
It had become pretty clear by this stage that Mustafa was obsessed with hostelworld.com and hostelbookers.com and wanted me to give him a good review. He talked about it every time I saw him – when he brought tea to my room, showed me the beach, told me the bus times, he always followed up with, "You give me good review on hostelbookers? Excellent review!" and a big toothy smile.
So this is what happened.
At 10.30pm on the dot, Mustafa knocks on my door. I answer. He smiles. He has no massage table.
"So where do we do this?" I ask.
"On the bed. You just take off your clothes and lie down."
Again with the take off your clothes! I don't think this is legit in Turkey, but it feels too late to get out of it, so I say instead, "Um, I'll need a towel."
"Don't worry, I have one." He holds up something resembling a tea towel, so I awkwardly take off my dress and lie face down on the bed in my bra and knickers. This suddenly feels so wrong.
The massage begins. It's not bad, but it's not great. It doesn't seem very professional. It's all a bit soft and repetitive and it's on my bed! I find it hard to relax as I wonder about the appropriateness of this man being in my room with me wearing only my knickers and half a bra, when he says, "Gabrielle, you are very healthy, yes?"
Silence.
"Yes, you really have good body. You must be very healthy. What do you do?"
"I eat kebabs."
"What?"
"Yeah, I'm going around for a year eating kebabs, trying to find the best one."
"You must be doing some exercise. You hiking?"
"Well, I'm doing a lot of walking around looking for those kebab shops."
"Yes, you can tell. Super body. Bravo!"
It was about this time, Fran, whom I was meeting in Patara Beach in a few days, becomes Frank, my boyfriend. Frank has a Turkish father and an Australian mother, but strangely they live in England. I think he is going to propose to me in Patara.
It's in the middle of my imaginary proposal that Mustafa stands on my bed – the bed I am supposed to sleep in – in his shoes. In his filthy dirty shoes, he just stands on the bed in order to work my super healthy bravo kebab-loving body from a better angle. All the while commenting on how super it is.
I can no longer concentrate on Frank, or our wedding, or where we're going to live when he's finished his sabbatical with Medecins sans Frontiers. All I can think about is the filthy sheets.
But that massage goes on for an hour! That is a long time to be thinking about dirty sheets. So I start thinking about whether the massage ointment has a chemical in it that will put me to sleep so Mustafa can do terrible things to me. But I've left all the windows in my room open and he hasn't closed them so I doubt this theory is credible. I try to concentrate on whether I'm getting drowsy, and for a minute I think my eyes feel very heavy, but I really just feel thirsty and want to get up. Every time his hands touch my waist and he says, "very healthy, super", I have to hold back a little vomit.
Finally, it's all over. Mustafa is dripping with sweat, but I don't move from my bed. I may actually be frozen in fear (whether it's fear of Mustafa or my own stupidity is unclear). I bid him farewell from face down and when he goes I bolt the door, move the chair up to it, shove some things under it and open all the curtains. Upon inspection I find the sheet in worse condition than I expected.
After initially standing on the bed with his sandals on, he must have had a moment of clarity in which he realised standing on a guest's bed in your shoes probably isn't going to get you 100 percet in cleanliness on hostelbookers.com. So he obviously took them off before mounting the bed for a second time. Not only are there dirty sandal marks on the sheets, therefore, but there are also the outlines of some pretty filthy toes.
I dig through my backpack for the silk sleeper sheet my friend has given me as a little farewell present. Never have I appreciated a gift as much as I tuck myself up inside it and vow three things:
1) Never to agree to a man coming to my hotel room for a massage again,
2) Not to give Mustafa 100 percent in cleanliness on hostelbookers.com,
3) Not to tell anybody about this ordeal and thereby expose my complete and utter stupidity.
A version of this post first appeared on www.kebabquest.com.