"Possibly the next big rock band to come out of Dirty Jersey!" says the tri-state's one and only Aquarian Weekly. "Scarlet Carson is no shrinking violet!" reads the Asbury Park Press. With charismatic frontman Santino Hollywood heading up lead guitarist Stone, rhythm axe Tommy Licore, bassist Mayhe\m/, and Raab behind the skins, Scarlet Carson has racked up an impressive resume. As winners of the 2011 Jagermeister Music Invitational, the 2010 Break Contest [of 6000 Applicants], the 2009 95.9 RATFest Band Search Contest, & the 2009 War for Warped Tour. Ranking on the Top 10 Signed Charts of ClearChannels iHeartRadio's nationally syndicated "NEW! Rock" program from April 2011 til present with their single "West Coast Dreamer" as well as holding the top "Recommended Artist" slot for 4 months, reaching #1 on Road Runner Records SignMeTo.com Daily Rock Chart and Peaking at #4 on the All Time Rock Charts, and nominated for "Top Rock Band" in the 2010 Asbury Park Music Awards, Scarlet Carson is no stranger to accolades.
Playing their signature style of metal & blues infused hard rock since 2007, this power packed 5-piece has shared the stage with numerous acts such as Papa Roach, Buckcherry, Motley Crue, Vince Neil, Fuel, Skid Row, Hellyeah, Bullet for my Valentine, Saliva, Drowning Pool, Rev Theory, Cavo, Saving Abel, The Damned Things, All That Remains, Red, Burn Halo, Pop Evil, Adelitas Way, and more! Scarlet Carson has also made some noise at numerous major festivals such as The Bamboozle Festival (3 years in a row, '09,'10 on the main stage w/ world famous acts Ke$ha, Drake, Paramore, and more, &'11.), The Warped Tour, & Cruefest 2 w/ Motley Crue, Godsmack, & more. All while tucking two full length albums under their belt and releasing the title track of amusement park Six Flags Great Adventure's "Ghoulmaster's Ghosts" Soundtrack. Now, Scarlet Carson has just released their 3rd studio album "Foreverless", featuring 2 songs produced by Eric Greedy (Hurt, Motley Crue, Kiss) and mixed by Eric Rachel (Skid Row, Atreyu, Everytime I Die). Dirty Jersey's most promising rock n' roll sons celebrated the release with their first major headlining show at NJ's most premiere venue, The Starland Ballroom with special guest host, friend, and fan Jesse Blaze Snider. The event brought together the hottest rock talent in the tri-state area, pulling in an impressive 1100 music lovers to the venue. Scarlet Carson is now gearing up to film their first music video this October for the title track single "Foreverless" with famed director Scott Hansen (Ill Nino, Willie Nelson, A Day To Remember, & more)!
(Disclaimer: Text Copied Direct from Scarlet Carson Website Bio and Not the Views, Events of Writing of Myself)
Tommy Licore has been a personal friend of mine for many years. Since I have met him he has dreamed of making it big and playing it hard. He strives for the best and settles for nothing less. I admire his strength and persistence in his journey as one of New Jerseys Best Rising Bands.
A few weeks ago I asked Tommy is he would do a personal interview for my blog, to spread his music to my readers. He agreed and here we are. 
It is my pleasure to introduce you all to a great friend, a kick ass musician and my daughters "Rock Star"
Tommy Licore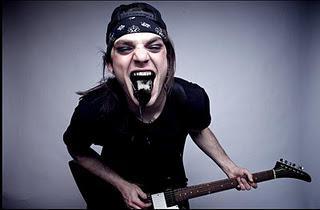 WHAT'S THE FIRST SONG YOU EVER REMEMBER HEARING? 1st song i remember hearing had to be off of the kiss album destroyer lol dont know if thats a trick question, but theres no doubt the 1st SCARLET CARSON song i heard first was a song called 'how can i know?' from the album not so innocent (on itunes btw) at a live pre tom scarlet show in south jersey. Thats also the 1s time id seen or heard of scarlet._____ 
WHAT ARE YOU LISTENING TO LATELY? Lately I've been listening to a couple things. Of course my good buds band by the name of Thomas Wesley Stern, they have a badass folk album called 'Hope Folk' , but alot of HASTE THE DAY, KISS is always in rotation, and alot of my bands new album "Foreverless'. _____ 
WHAT'S YOUR FAVORITE ALBUM BY ANOTHER ARTIST?
Man, thats like askn me to pick a favorite child. Favorite album hands down is 'Appetite for Destruction' by Guns N' Roses._____ 
WHAT SONG OF YOURS ARE YOU MOST PROUD OF?
i wrote a song in a band i was in called THROUGH THE GREY, and we wrote a song called 'Like bats'. I'm proud of it because it really showcases what i'm capable of as a writer and it made people happy when we played it. In the sense of SCARLET CARSON, we have a song called 'WEST COAST DREAMER' from our 2nd album ' Burn it All'._____ 
WHY?
I mean sure we have other songs in our bag of 'fuck yeah thats awesome' but west coast has that message that musicians trying to do something understand. It gives insight for all that 'MAKING IT' aint easy and is a serous bitch._____ 
ARE THERE ANY SONGS YOU'VE DONE THAT YOU WISH YOU HADN'T?
Sure and that's why they haven't been released. When it comes to being in a band and some band mates push other songs that you think aren't as strong as others, well that's business. _____ 
IS THIS YOUR FIRST ALBUM?
nope._____ 
HAD ANY OF YOU RECORDED WITH OTHER GROUPS BEFORE FORMING
yes. but that's all irrelevant. SCARLET CARSON is the focus. _____ 
HOW LONG IS THIS TOUR?
We are currently planning the 'tour', and to keep up on where well be next just check up on our website at 
www.scarletcarson.com
, and our course this is all linked to all our other social networks like facebook._____ 
 IS IT POSSIBLE TO BE OUT ON THE ROAD AND NOT EAT ANY JUNK FOOD?
yes. we look forward to carrots and peanut butter._____
PEOPLE HAVE THE IMAGE THAT IT'S NON-STOP PARTYING OUT THERE. IS IT 
TRUE?
ummm. well we all smoke craCk. so idk. lol. _____ 
ARE YOU MARRIED OR INVOLVED WITH ANYONE?
very._____ 
IS IT HARD TO MAINTAIN A RELATIONSHIP WHEN YOU'RE OUT ON THE ROAD?
no. read books and play guitar , and drink beer, and take your clothes off in the van for your other band mates. _____ 
WHEN DO YOU GO BACK IN THE STUDIO?
not for a while. We just recorded 'Foreverless' and its time for everyone to get a copy and absorb whats goin on. I dont know if im the only one that listens to an album from front to back and is like i gotta listen again. Or even that dude that gets excited about a new album coming out and is like yessss!!! like a 12 year old boy who is finding a free streaming website where is naked chicks making out. I come from a time where you couldn't download and music was appreciated because you paid for something with your hard earn cash and where like yes when you held that new album. go to our website or to itunes and get your copy noww!!!_____ 
WHAT DOES YOUR CONTRACT RIDER CALL FOR IN TERMS OF BACKSTAGE
 AMENITIES?
we're simple. give us a room!!!_____
WHAT WOULD YOU BE DOING IF YOU WEREN'T A MUSICIAN?
idk man. thats for people who didn't make the cut, or wanted that security and got a real job._____ 
OTHER THAN THE PEOPLE YOU'RE WITH NOW, IF YOU COULD GET ANY 
MUSICIAN, LIVING OR DEAD, WHO WOULD BE IN YOUR "DREAM BAND?"
nate morton on drums. he was the house band drummer for that show on cbs called rock band: inxs. duff mckagan on bass. just love his tone. bruce kulick on lead guitar. he was in kiss from ithe mid 80's to the mid 90's. but the way he palyed on kiss's 90 Revenge record. and probably David Lee Roth as my singer.lol fuck it just scratch that. make it the original Guns N' Roses line up and let me play the triangle._____ 
(FOR GUITARIST ONLY:) HOW MANY GUITARS DO YOU OWN?
idk like 6. Im a gibson guy._____ 
HOW MANY SONGS IN YOUR HOME COLLECTION?
mannnnnnnnnnnnnnnnnnny._____ 
HOW DO YOU FEEL ABOUT CENSORSHIP?
when censorship came to be a thing it got all this attention. at a time when there was no internet. then when it happend, for metal bands at least it was a great thing because all this attention it had. lol if any thing record sales didn't hurt they thrived. Now it means nothing because they're so many ways around it. Censorship as a presence to art is fucking stupid. art should have no restrictions. i love naked bitches. next question. _____ 
DO YOU CENSOR YOURSELF? HAVE YOU EVER WRITTEN ANYTHING AND THEN 
DECIDED IT WAS TOO HARSH?
naa. i mean your not gonna hear one of our jamms on FOX 5 where we curse. but then again you can edit things out for commercial use. dude censorship is gay, it puts limits on art. go listen to "rock n roll lover" off 'Foreverless' and the ask me this question again. _____ 
WHAT'S NEXT FOR YOU?
The Asbury Park Music Awards at the Stone Pony Sunday November 13th. We've been nominated for 5 Awards this year!!!! and you can help us by emailing [email protected] and saying you want to become a registered voter for the AMA's. We were also asked to play. Our set time is at 8;30 pm so come out and support. As far as everone else though goto 
www.scarletcarson.com
, facebook the band and the members and get involved with what we doing. and dont forget on the website to sign up for our mailing list.____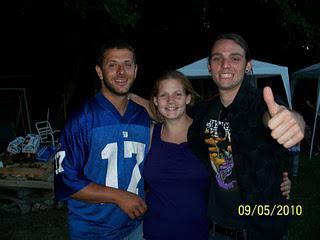 My Husband Dominick, Myself, and Tommy Licore at my Birthday Party.
For More On Scarlet Carson and Tommy Licore Stop over at their Website ScarletCarson.com 
You can Also "Like" Tommy himself on Facebook.
Along with the Scarlet Carson Facebook Fan Page.
You can find their music on iTunes. 
Their Videos are on
Youtube
And they have their own
Merchandise
Available for their Fans!
Thank you for Reading and I hope you Enjoy!!!