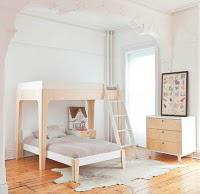 We are so excited to introduce the much anticipateed Perch Bunk Bed from Oeuf!
Elegant and striking, the Perch bunk bed is the perfect centerpiece for any child's room. Its compact footprint leaves plenty of room for play and additional furnishings. The bunk's low height makes it accessible and safe. The versatile Perch easily separates into a loft bed and a standalone twin, giving multiple configuration options.
What's the best part? The price tag! The Perch stands in a league of its own for a modern bunk bed. It is available in white/birch and white/walnut which will coordinate with other Oeuf pieces.
Enjoy Free Shipping with promo code FREESHIP!
Available at Mason & Matisse.