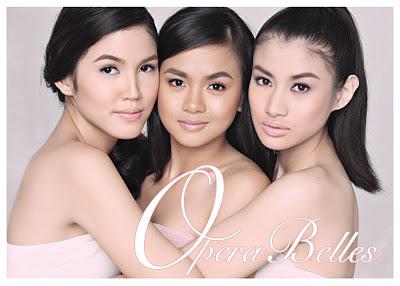 Three classically trained young singers have joined forces and voices to form the country's first young female pop opera group.
The Opera Belles, composed of Allison Tanner, Lara Maigue and Jam Valdes, combine contemporary pop with the artistry of opera in their self-titled debut album under Sony Music, which was launched recently.
In their debut CD, the Opera Belles perform some of the current crop of pop hits with a classical twist to create a unique sound. These include their versions of "Love Story" (Taylor Swift), "The Only Exception" (Paramore), "Breathless" (The Corrs), "Heaven" (Bryan Adams), "Sleeps With Butterflies" (Tori Amos), "Like A Prayer" (Madonna), "Only Hope" (Mandy Moore), "Burn" (Tina Arena), Officially Missing You" (Tamia), "I Turn To You" (Christina Aguilera) and "Sundo" (Imago).
"The songs were uniquely interpreted with rhythmic changes and opera overtures, making the sound totally new to the ear," says Allison.
The group was formed by the Philippine Opera Company and each member underwent auditions and rigid training. In 2010, they were signed up by Sony Music.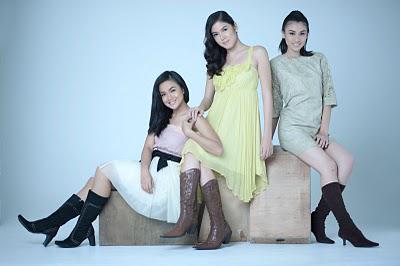 Allison started singing when she was 8 years old and was trained at the University of the Philippines Extension Program where she was introduced to opera and classical music. She is currently a sophomore Pharmacy student at Centro Escolar University. She describes recording the album as "like a newborn--so many bright new learning--theoretically, socially, emotionally and spiritually."
Jam took voice lessons at age 7 but it was not classical training. Her musical skills were honed joining glee clubs during high school, and her confidence was boosted when she joined Repertory Philippines' summer workshops for 7 years. This DLSU Industrial Engineering major started classical training a year ago under the Philippine Opera Company. She enjoys sports, dancing, acting and joining beauty pageants.
Lara studies Music Education at the University of the Philippines. Both her parents are musicians/music professors. Her mother, also a classical singer, being her first voice teacher. Lara started having formal lessons during her second year in high school. Her musical influences include Charlotte Church, Sarah Brightman, Andrew Lloyd Webber, Renee Olstead and Michael Buble.
"It's such a dream come true. As a kid, I've always wanted an album and specifically under Sony. It's truly an honor to finally be part of this prestigious label," says Lara.
The debut CD is now available in record stores, under Sony Music.
PLUS: The belles' first official music video, where Taylor Swift's Love Story takes on ethereal airs--