We all know that creating beautiful clothes that fit and flatter is an art. It requires talent, skill, a practiced eye and time. Teaching this art requires the ability to break down processes that have become second nature and communicate them in a way the uninitiated can understand, plus a considerable amount of patience and diplomacy. Rarely do we encounter anyone who excels at both. Sarah Veblen is among this rare breed.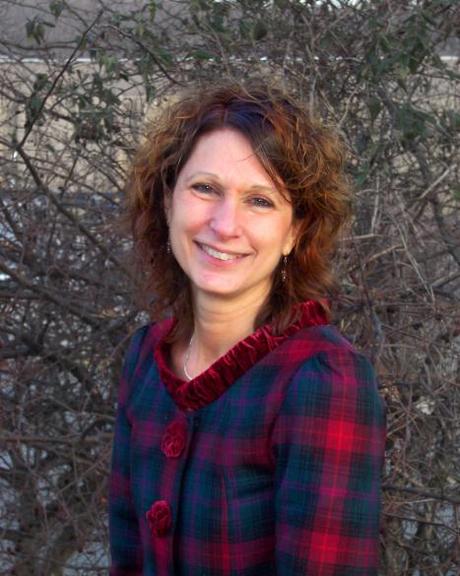 If her name sounds vaguely familiar, you may have read one of Sarah's articles in
Threads Magazine
. My introduction to Sarah was through her online classes on
PatternReview.com.
These cover topics such as sleeves, linings, underlining, buttons and buttonholes, knits, wools and sheers. Her class titles use the words "All About" and those classes deliver on that promise. Her written materials are thorough and clear. Her follow-up on the message boards is equally clear and comprehensive. As if that weren't enough, I am amazed by the fact that she is able to look at pictures students post on the class message board, identify the fit issues and write out suggested alterations to address them. As this is posted, Sarah is putting the finishing touches on her book,
The Complete Photo Guide to Pattern Fitting
, which is scheduled for publication in January 2012.
Sarah offers an array of classes, workshops and private lessons at her home studio in the Baltimore area, as well as workshops and weekend retreats around the country. We are working on bringing Sarah to the Chicago area soon, and so we thought it would be nice if you got to know a little bit about her in advance. So, here is an introduction to Sarah Veblen, in her own words:
Tell us when and how you got bitten by the sewing bug.
My mother sewed, and when I was in elementary school, I'd play with her scraps and make doll clothes if she had everything out. In ninth grade, I started sewing some clothes for myself, more experimentation than following a pattern. But in high school, I started to sew using patterns. Because of a move that my family made from one state to another, I never had home economics. When I asked my mother about my learning to sew, she said she never really taught me, but that I just started to sew. In her words, "You were sewing circles around me by the time you were finishing high school." Sewing just made sense to me. I've always loved working puzzles, and to a large degree, sewing is nothing but a big puzzle.
After college, I was working in the Boston area as an executive secretary and office administrator, and I needed a better wardrobe than what I had worn in college. Because I was interested in sewing, I started to make more and more of my own clothes. One of my new friends in the area also sewed, and she and I would pour over pattern books and shop for fabric together. Having a friend who liked to sew helped to keep me interested as well. It was then that sewing became a passion. Lots of my spare time was consumed with sewing clothes for myself and friends. I just loved the process and couldn't stop!
How did you learn sewing, patternmaking and design? How did you get your start designing and sewing custom clothing?
It's hard to answer these two questions separately, so I'll talk about them together.
Fast forward about ten years, and after several moves and getting married and having my first daughter, I was living here in the Baltimore area. My friends were really impressed with the clothes I was making for my daughter and encouraged me to sell them. I found a local shop that sold handcrafted items, and they were interested in carrying my children's clothes. However, I knew that I couldn't use commercial patterns for this purpose, so I developed a few patterns on my own – some of these were based on commercial patterns, but there were such substantial changes to them, I felt that they were legitimately my own. I sold my children's clothes through two local craft stores and several small boutiques in New York City for quite a few years, doing all my own production.
It was during this time that I had a few inquiries about making custom adult clothing. When I look back now, I can't believe that I said yes, knowing as little as I did about fitting. But many dressmakers start off by offering the service of just making up a pattern. I realized that I was on a trajectory that I had never before seriously considered – of becoming a custom designer – and that in order for my work to be really good, I needed to learn patternmaking. With my marriage failing and three daughters, I knew I needed to support myself and couldn't face going back into secretarial work. So I signed up for a patternmaking class at a local community college.
It was the best thing ever! I learned the theory behind what I had been doing by the seat of my pants. I hardly slept the whole semester because I was so excited about what I was learning. I asked my local independent fabric store, A Fabric Place, if they would give my name to people who inquired about local dressmakers, and I started sewing custom clothing in earnest while continuing with classes in patternmaking, draping, and tailoring.
Although the community college's fashion program barely touched on fitting, I realized through working with clients that fit was of utmost importance – and in fact, that's why most clients were coming to a dressmaker. I read what I could find on fitting, but the theoretical examples never seemed to really match what happened in real life. One of my new clients had a challenging body to fit: she was barely five feet tall and quite amply endowed. As I fit a muslin of a jacket on her, I remember not knowing if making a change in a certain way was better than doing it another way. So I asked her if I could do some experimenting, and if so, I wouldn't charge her for the pattern development. I then copied the pattern and altered each set differently, and in the next fitting, I could quickly tell what worked better. I often did this in the beginning of my dressmaking career – had two muslins going for the same client – so that I could better learn how I liked to fit and what gave me the results that I wanted.
As my fitting improved, I realized how closely linked fitting, patternmaking, and design were. For example, there are often times that by introducing a new style line (i.e., adding a seam), I can both improve the fit and make the garment look more flattering. It was really through fitting that I became more interested in design. And as I developed my own sense of design, I became even more interested in fitting. The two definitely fueled each other. And it was my ability to fit and design that made my reputation as a custom clothier.
Thank you for giving us these insights into your journey, Sarah. We look forward to continuing this interview in later posts.