Are you looking for fresher and more exciting options of language school specifically intended for French language school? We honestly have so many options you can choose from when it comes to French language learning. But for newer options, you might want to take a look at our French language school in Biarritz.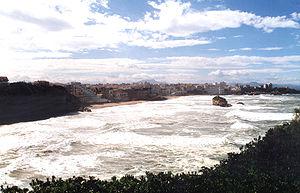 Image via Wikipedia
Our school in Biarritz is spectacular. Choose this school and you will have an incredible quality teaching. You will even have a particular focus on each of your needs. No matter what level of learner you are nor how versatile your needs may be, our school will surely meet the expectations that you demand. If you are looking specifically for smaller groups of classes, we have it all here. Small groups anyway are best especially if you are particular to individual attention. To be specific, maximum of ten students per class is exclusive in the school.
If you are also very peculiar with language teachers, the teachers in foreign language schools like this one has the experience and quality dedicated to students. The staffs are professional and friendly and you will have great time dealing with your language learning difficulties while expect a good relationship with them.
You must have been a learner who looks at the facilities at particular language schools. Well, our school in Biarritz will not fail your expectation. They have modern equipment and adapted teaching material that you will really need on your learning process. The school has free internet access, and you will love the location of the school since it is located near the sea.
So don't hesitate to make inquiries in our newest French school dedicated to provide you with all the things you need for your language learning. Feel free to browse our site.