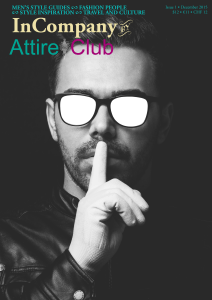 This end of the year, we are proud to announce the launch of the InCompany by Attire Club publication. This magazine is a new step into offering our readers a 360 degrees experience on style, fashion and lifestyle and to reach new people from all over the world. InCompany is not a magazine in the classic sense of the word, but is more of a concept journal. We are in the company of so many great people who are doing amazing things, that we wanted to develop a new way to celebrate the world of men's fashion and lifestyle.
The publication, which for now will have a biannual appearance, is based on the classic Attire Club concept: style guides, interviews with creatives from various fields, fashion inspiration, cultural insights and all things metafashion.
In this sense, the theme of our first issue is "Accessories and Austria". Given that Austria is the home base of Attire Club, we have put together an article called "A for Austria" (symbolically titled to suit the first issue of the magazine), where you can read all about fashion in Austria, Austrian people who are known worldwide (from W.A. Mozart to Arnold Schwarzenegger), the Austrian landscape, the Austrian lifestyle and the country's history and culture. Moreover, we also have interviews with Austrian models turned designers Manuel Rauner and Martin Pichler, who have recently launched their label Verdandy during this year's MuseumsQuartier Vienna Fashion Week.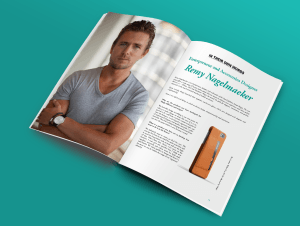 In our other articles, we focus on accessories both in general and in particular and feature interviews with fascinating people such as Jacques Flynn, who is a car designer for Mazda, but who also owns an accessories brand,
JAQET
.
Because we are so passionate about fashion and the way it intersects with innovation and technology, we have created a roundup of innovative fashion projects and were privileged to do an interview with creative scientist Gary Cass, who, together with his company, Nanollose, have created a beer dress.
For those who want to discover more fascinating interviews on style, creativity, politics and business, the first issue of InCompany by Attire Club also features interviews with celebrity stylist Chance Oknonski, with Canadian photographer Cody Caissie and more! We also have a selection of our favorite products of the season and our mood board in the form of a visual diary.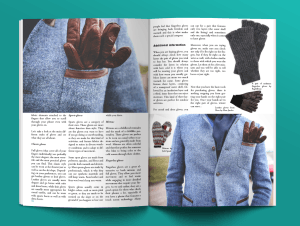 And, because Attire Club is always ahead of the curve, inside the magazine, you can find QR codes, which, when scanned, send you to a song on YouTube of a brand's website.
With 128 pages of fashion, InCompany by Attire Club is the magazine for you. The first issue of IC by AC will be available in our e-shop and in selected boutiques worldwide and will also be available for digital download.
If you are on a journey to bring your style to the next level or to discover new inspiration, now is the time to amp your game with the new InCompany by Attire Club magazine!
Fraquoh and Franchomme
P.S. We want to hear from you! What subjects would you like to see discussed in the magazine? Whom would you like us to feature? Share your feedback, questions or thoughts in the comments below! For more articles on style, fashion tips and cultural insights, you can subscribe to Attire Club via e-mail or follow us on Facebook or Twitter!