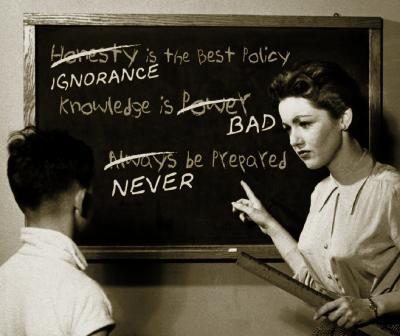 if this is what sex-ed looks like in your school, you better read this column
Sex is probably one of the most taboo, yet most highly discussed topic in any teenager's life. If you're not talking about sex, you're probably thinking about sex. Even if you manage to push all sexual thoughts from your head for a minute — something I'm still working on — you're bound to be bombarded with some sex-laced commercial, reading, or comment. Regardless of the position you take on sex, it exists and that's why each and every one of us is here.
We deal with slut shaming, virgin shaming and everything in-between on a daily basis. Now more than ever in a sex obsessed world girls need to own the fact that we are sexual beings. I'm neither encouraging people to sleep around or to keep their legs shut until marriage. Rather, I want to know where you stand. Past Fbomb posts have already displayed girls voicing their opinions about sex. It's time for the FBomb to create a special forum for girls and guys to ask questions about, talk about and debate all things sex, and I'm happy to be your go-to girl / moderator / sexpert.
I honestly can't say I'm by any means the most experienced or even the most informed when it comes to sex. Hell, half the time I have just as many questions. But I'm shameless and curious and am willing to find out the answers to your questions, no matter how silly or embarrassing you think they are. Women ahead of us have battled for our right to vote, to use birth control and to be sexually liberated.
All I ask is that you own your opinions about sex and ask me any questions you might have. Here's a little info about me:
Name: Marie B
Age: 18
Occupation: College Student
Things I Think About Most: Sex, Food, Repeat
So now that you know a little bit about me, I want to hear from you! Email [email protected] I plan to write a regular column answering any sex-related questions that you have, so please ask me anything! Also, if you have any ideas about what else you'd like to see covered in this column aside from Q&A's, leave suggestions in the comments or email me!
That email again is: [email protected]
LET THE SEX MADNESS BEGIN!