Our first #AdvTravelChat is taking place this Wednesday, May 20th, 12-1pm EST / 7-8pm CET.  With summer vacation right around the corner, we will be discussing DESTINATIONS.  The best places for hiking, and diving, amazing destinations for outdoor adventures, and adventures to be had right in your own back yard! Even if you aren't the sky diving or shark diving type,  you're sure to find an experience that's right for you!
As an added incentive to join us, Nellie is giving away a print copy of her fabulous book The Adventure Traveler's Handbook, to the most creative and inspiring participant.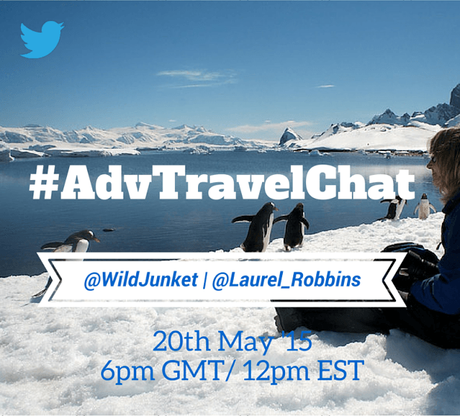 How To Participate in #AdvTravelChat
1. Follow us on Twitter @Laurel_Robbins and @WildJunket. Enter the hashtag #AdvTravelChat in the search box on Twitter on Wednesday, May 20th 2015 between 7pm GMT/12pm EST.
2. 10 questions will be ordered Q1, Q2, Q3 etc. To answer Q1, begin your tweet with A1. For Q2, A2 and so on.
3. Add #AdvTravelChat to all of your tweets during the Twitter chat, so everyone can see what you're saying. In addition to answering the questions, be sure to interact with other participants by entering #AdvTravelChat in the search box.  It's a fantastic way to connect with other adventurers and get some travel inspiration and new ideas!
Why Join #AdvTravelChat?
We are two fun-loving well-traveled adventurous ladies with some of the largest adventure travel followings on Twitter in the biz! We aim to inspire you, make your bucket list longer and have a blast while doing it! To really get the party started, I know I'll have a glass of wine in hand!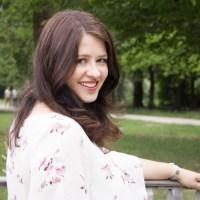 A few of my favorite adventures include shark diving (without a cage) in Costa Rica, the Galapagos Islands, South Africa and Palau. I'm an avid hiker who can be found in the Alps most weekends, and have completed the 
Everest Base Camp Trek
, the
Tour du Mont Blanc
and numerous multi-day hikes.  Before I moved to Germany, the Canadian Rockies were my playground.  I've recently taken up cycling, and have cycled from Passau, Germany to Vienna, Austria and will be cycling 1200km across Finland on the Iron Curtain Trail in June. I'm also passionate about wildlife.  Hiking to see mountain gorillas in the Virunga Mountains was a highlight I'll never forget! I'm always up for an adventure and to try something new!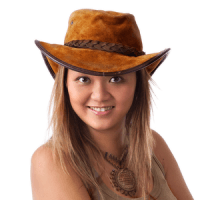 As a full-time traveler, writer and blogger, Nellie has a special interest in extreme adventures and unusual destinations. She's been traveling around the world with her husband Alberto since 2003, experiencing over
90 countries on seven continents
together. Through the years, she has spent months backpacking through South America,volunteering in Tanzania and exploring Southeast Asia. Some of her most memorable adventures include expedition cruising in Antarctica, overlanding the Silk Road, climbing an active volcano in Iceland, skydiving in Spain, wildlife watching on the Galapagos Islands and paragliding in South Africa!
Join us for #AdvTravelChat on Wednesday, May 20th 2015 between 7pm GMT/12pm EST for adventure travel inspiration, ideas and FUN!